Some US wireless operators are offering 36-month financing options on their most expensive cell phones, a new development that reflects both the ballooning price tag on some of today's newest wireless gadgets as well as Americans' growing desire to hold onto their existing phones rather than upgrade to new ones.
Jeff Moore at Wave7 Research, which closely tracks wireless operators' pricing and promotional efforts, noted that AT&T recently dropped its 24-month phone financing plan and now only offers a 30-month plan. He added that T-Mobile this past winter offered a 36-month financing option, though has since moved back to a 24-month plan. And Verizon recently introduced its first three-year financing plan with a 36-month payment option for its new $1,300 Samsung Galaxy Note 10 5G smartphone.
Such financing options are called "equipment installment plans" or EIPs in the wireless industry, and they have largely replaced the two-year subsidy model that operators previously used to pay for cell phones. Under the old subsidy payment model, operators offered most smartphones for just $100 or less, but locked customers into a two-year service contract in order to recoup the full cost of a phone via customers' monthly payments. That kind of plan often hid the true, full cost of a smartphone, and encouraged wireless customers to purchase a new smartphone every two years.
Now, however, most new wireless customers purchase their phones and service through EIPs, which disclose the full cost of a smartphone but allow customers to pay for their new device via interest-free monthly installments. When EIP plans were first introduced a few years ago, they generally broke up the cost of a phone into one- or two-year payment plans.
But now, with some high-end cell phones costing $1,000 or more, operators are offering payment plans of up to three years in order to make the monthly payments easier to swallow.
The ramifications
The move to longer EIPs is creating some interesting new dynamics in the wireless industry.
First, as Strategy Analytics recently pointed out, Americans aren't buying new phones every two years anymore. Because they now know the full cost of their device, and because their monthly expenses decline when they pay off that device, they're much more likely to hold onto their phones for longer and longer periods. And that trend appears to have been exacerbated by the rising cost of newer smartphones and the lack of fancy, new features on today's devices.
"Operators and device brands face significant inertia given consumer perception of diminishing innovation or marginal value add in successive generations of flagship devices," said David Kerr, an analyst at Strategy Analytics, in a release. "At the same time vendor pursuit of profitability has seen smartphone prices rising towards and above $1,000."
Cliff Maldonado, founder of BayStreet Research, said the situation will likely put more pressure on smaller smartphone vendors like Motorola and LG because they now have fewer chances to sell their products.
However, he noted that wireless operators are likely pleased with the situation because customers don't seem willing to switch service providers as often anymore. When operators sold two-year service contracts, that meant that customers often re-evaluated their provider every two years. Now, though, customers are sticking with their existing carriers for longer periods because they're either paying off their phones or enjoying lower monthly payments.
Indeed, US wireless operators generally are reporting record-low levels of churn. Churn is the percent of customers who switch off their service or leave for a different carrier.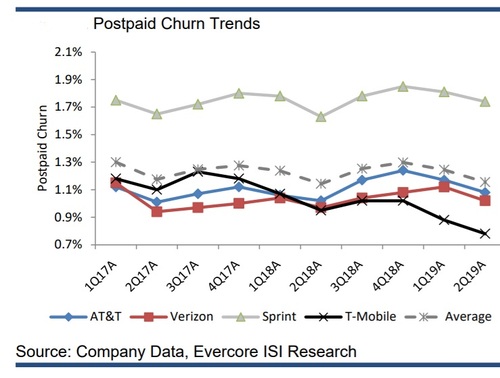 It remains to be seen whether the allure of 5G will drive customers to buy new phones that support the technology. According to Nomura's Instinet, mobile customers in the US now hold onto their phones for an average of six years before buying a new one. And BayStreet recently reported that US wireless network operators sold just 29,000 5G devices in the second quarter.
— Mike Dano, Editorial Director, 5G & Mobile Strategies, Light Reading | @mikeddano