12:55 PM -- Rain may have convinced devotees of the Apple Inc. (Nasdaq: AAPL) iPad that it wasn't worth getting in line for the new tablet, which goes on sale at 5 p.m. local time in the U.S.

The New York area saw torrential rain overnight that was just ending as I visited iPad stores this morning. The river floods and road closures may now be overshadowed by the massive earthquake in Japan and a threat of a Tsunami on the West Coast but they certainly helped to snarl local transportation this morning.

LR Mobile checked out the Apple store on 14th Street and AT&T Inc. (NYSE: T) and Verizon Wireless stores near our offices on 34th Street. The brief slideshow below tell the whole story.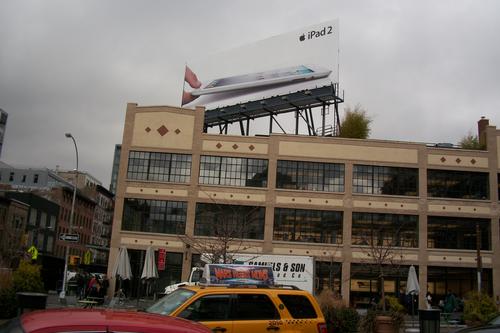 We'll check in again later at stores in NYC and Chicago to see if anything has changed. (See The ChiTown iPad 2 Update.)

That afternoon... Predictably there was a large crowd at the Apple store and just foot traffic at AT&T and Verizon stores. In fact, AT&T staff at the 34th Street store told me they'd sold out of the ten new iPads they had in stock in less than ten minutes.

The scene at the West Side Apple store was finely tuned to hype up the crowds waiting for their new tablets. Apple employees cheered on the buyers as they ascended the stairs in the glass-fronted building to pick up their iPads.

It's become a familiar scene at these iLaunches but is no less striking for that.

— Dan Jones, Site Editor, Light Reading Mobile