The iPad Has Landed
NEW YORK -- The iPad didn't quite bring out the crowds that
Apple Inc.
(Nasdaq: AAPL)'s iPhone launches did, but the first major mobile tablet to be introduced still drew an impressive number of the Mac faithful to the firm's flagship store in SoHo here on Saturday morning.
You could actually hear the crowd before they became visible, as Apple staff and willing buyers for the new WiFi-only touchscreen device whooped and cheered as the new iPads got picked up. Buyers had pre-ordered their iPads and were let into the glass-fronted store a few at a time. This resulted in a wait of up to 45 minutes for a device, and the lines appeared to be getting longer as the morning wore on.
Click below for images of the launch: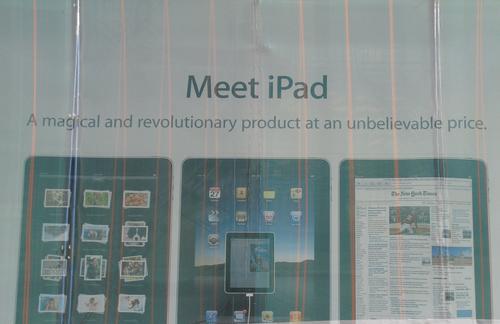 The launch on Saturday brought out plenty of mainstream print media and TV crews.
USA Today
was so eager to publicize its new iPad app, it hired someone to ride around on a Segway with a promo voice-over blaring out again and again. People milled around trying to give out "free screen wipes for your iPhone, iPad, or Mac," while tourists stopped to squint at the large, noisy ad.
Been living under a rock for the last couple of months? If you need to get up to speed on the iPad, check out
Light Reading
's comprehensive coverage of Steve Jobs's favorite tablet:
— Dan Jones, Site Editor,
Light Reading Mobile
---
Interested in learning more on this topic? Then come to
Three OSS Imperatives: Customer, Cost & Cloud
, a
Light Reading Virtual Event
for service providers that need to understand how to adapt and transform their operational support systems to put customers first, drive out cost, and support new cloud-based services. To take place on Tuesday, April 20, from 9 a.m. to 5 p.m. Eastern Time, access is free. For more information, or to register, click
here
.
---
PARTNER PERSPECTIVES
- content from our sponsors