12:15 PM -- Apple Inc. (Nasdaq: AAPL)'s expected iPad 2 announcement is mere minutes away, but a hefty portion of Light Reading Mobile readers may not be chomping at the bit to buy the tablet.

According to our survey Monday of more than 1,000 readers, over half would rather buy BlackBerry 's PlayBook tablet. (See Reader Poll: Will You Wait for iPad 2?)

Here's how our respondents voted at press time:


Only 3.4 percent are so devoted to Apple, they'll buy the iPad 2 no matter what specs it's packing
8.6 percent are waiting to hear what Apple CEO Steve Jobs -- or COO Tim Cook -- has to say before making a decision
51.3 percent want the PlayBook
16.7 percent will buy an Android tablet
13.9 percent aren't interested in the tablet form factor at all


There are a couple of theories on why the results are skewed so heavily toward RIM. One, someone in Canada spent a lot of time clicking away. Two, our enterprise audience is still devoted to the platform. Or three, everyone has an Apple hangover, thanks in large part to media folks like ourselves.

Of course, the fourth option is that the PlayBook is actually that attractive to those in the market for a tablet, but so far the pre-launch reviews have been mixed. (See OS Watch: Will Nokia Embrace WP7?, The PlayBook Play-by-Play and RIM Shows Off PlayBook Tablet.)

Whatever the case may be, tablets are shaping up to be the most competitive area in wireless this year. In another independent survey, Zoomerang found that tablet sales are set to double in 2011. Only 10 percent of its 1,500 respondents currently own a tablet, but 17 percent more plan to buy one in 2011. These respondents were most concerned with price, connectivity and the tablet's operating system. And, unlike our readers, their purchasing plans are heavily skewed toward Apple.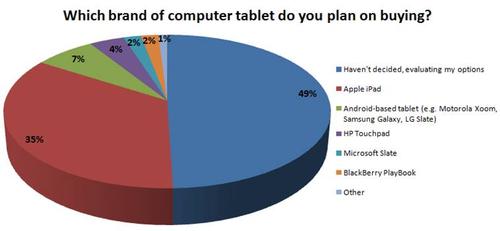 — Sarah Reedy, Senior Reporter, Light Reading Mobile