Sprint introduced new pricing plans on Monday that give customers switching to a family -- not Framily -- plan twice the amount of data AT&T and Verizon offer at a lower price point.
Light Reading broke the news that Sprint Corp. (NYSE: S) would be dropping prices this week after new CEO Marcelo Claure shared his strategy for the company in a "town hall" meeting last Thursday. (See Sprint CEO: Price Cuts First, Best Network Next .)
At the time Claure admitted that Sprint's previously launched "Framily" plans were confusing to customers and that the carrier would have to drop prices to make up for its poor network quality. Today's plans accomplish both goals -- they get rid of the Framily name and drop prices, but with more bang for your buck.
For customers that switch between August 22 and September 30, they will get 20GB of data for up to 10 lines for $100 a month. That applies whether they have four lines or 10, and Sprint is also throwing in an additional 2GB per line for up to 10 lines. After September 30, the price will increase to $160 for four lines. Adding a tablet to the plan is an additional $10 per month or $20 for a mobile broadband device.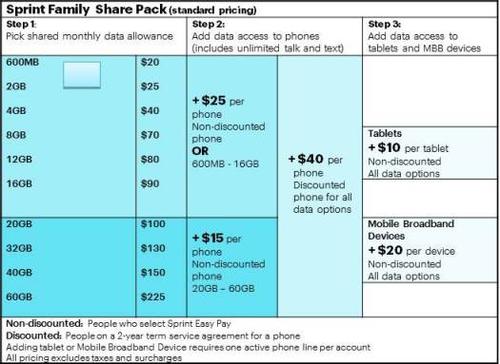 The $160 plan from AT&T Inc. (NYSE: T) and Verizon Wireless only includes 10GB of shared data. T-Mobile US Inc. does offer a $100 plan, but it only includes 10GB of data and limits a family to four lines. (See Sprint, T-Mobile: The Price War's On.)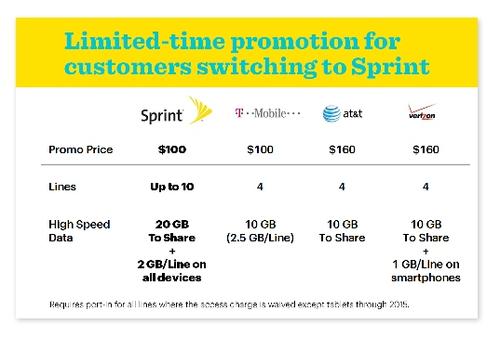 Under Framily, Sprint offered a $160 monthly plan for 4GB of data. It didn't confirm if it would stop offering Framily all together, but it's simply calling its new plans "Sprint Family Share Pack," and, for a limited time, is offering to buy out switching families' contracts up to $350 if they sign up for Sprint Easy Pay. The company also appears to be kicking off an "It's a new day for data" campaign that could replace its Framily messaging.
Bill Ho, an analyst with 556 Ventures, thinks the new plans are the right move for Sprint on several levels. First, the $100 price point is easy to understand and easy to compare across carriers. Second, it undercuts AT&T and Verizon on price, while beating T-Mobile on data, demonstrating both price and value. And, third, it encourages switchers to sign up for Sprint Easy Pay, its device installment payment program. AT&T's comparable program, Next, has been a big churn reducer for it. Now, the analyst says, it all comes down to execution. (See AT&T's Next to Shorten Wait for Device Upgrades.)
"There is that call to action: 'It goes until the end of September, so get in now, and if you're worried about leaving, we'll pay your switching fee,'" Ho says. "It'll be interesting to see how they market this call to action and how urgently they push it."
Claure seems to get the urgency, at least. In a release on the new plans, the new Sprint boss promised further bold moves to come. Echoing statements he made last week, he said, "We have more news coming later this week about plans for individuals. We want customers to think twice before choosing another wireless carrier."
— Sarah Reedy, Senior Editor, Light Reading