With more than 250 readers having voted, the overwhelming view of Nokia Corp. (NYSE: NOK) is that the company will struggle to retain its independence come 2014.

Following the Finnish firm's restructuring announcement, we launched a poll on June 14 to see what you thought Nokia's future held. (See Light Reading Poll: What Will Nokia Be in 2014? and Nokia Cuts 10,000 Jobs, Restructures.)

On June 15 we ran some early results, which showed that a merger with Microsoft Corp. (Nasdaq: MSFT) was the most expected outcome for the handset giant.

Now, with more than 250 votes cast, the results show little change, though the percentage of voters who believe Nokia has an independent future has crept up to 23 percent (compared with 20 percent on June 15), while those that believe Nokia will cease to exist has dipped to 19 percent from 23 percent.

A merger with Microsoft is clearly still seen as the most likely outcome.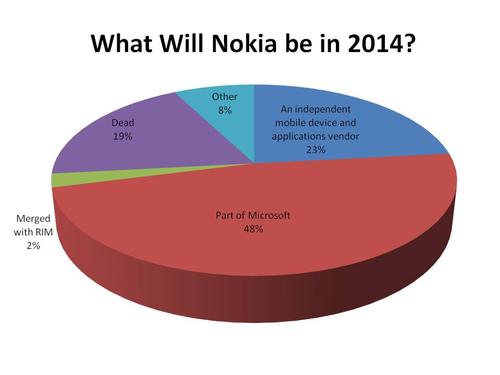 — Ray Le Maistre, International Managing Editor, Light Reading