Conceived as a classy, members-only annexe to the Leading Lights awards, the Light Reading Hall of Fame first opened its doors in 2010 to celebrate the heroes and villains of the telecom industry.
Visionary engineers, business titans, convicted fraudsters -- all were ushered beyond the velvet rope by muscle-bound Light Reading security to take their place on the leather banquettes of telecom destiny.
The class of 2010 set the tone with an interesting mix.
First up was Jacob "Kobi" Alexander, he of Comverse, fraud charges and long-term sojourn in Namibia fame.
John Cioffi, Stanford's DSL pioneer and famous for all the right reasons, followed close behind.
Then more hissing was to be heard with the arrival of Bernie Ebbers, the former Worldcom man and not-so-good ol' boy who ultimately went down for 25 years on fraud charges.
Respectability was restored with Clearwire founder and all-round moneybags Craig McCaw.
And how could we forget Bob Metcalfe, the twinkly Father of Ethernet (pictured below)? We didn't. He was in.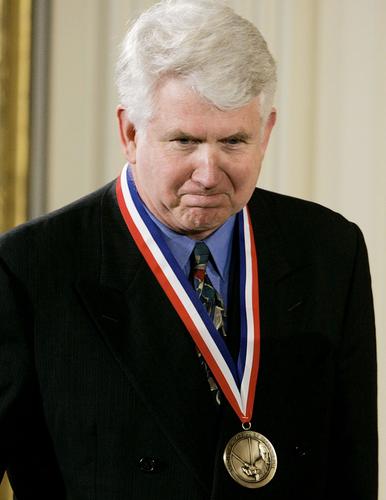 In 2011, the untimely death of Apple legend Steve Jobs meant a late addition to the HoF roster. The other five, while hardly household names in the Jobs mold, have all made their mark on the telecom industry, big-time. (See Light Reading's Hall of Fame: 2011 Inductees.)
Step forward:
Ed Whitacre, who rebuilt Bell Systems;
Joseph P. Nacchio, whose Qwest ended in six years for insider trading;
Hatem Dowidar, of Vodafone Egypt, who bravely shut down his company's mobile network at the behest of the country's deeply unpopular government at the height of the Arab Spring;
Martin Cooper, the Motorola engineer who created the first mobile phone (OK, it looks like a comedy prop now but could we have made it?);
And Gary Smith, the notable Brummie and long-serving CEO of Ciena.

In 2012, Light Reading got all fancy and celebrated its HoF inductees in this slick, Sundance-wowing video.

It paid tribute to:
Irwin Jacobs, co-founder of Qualcomm and the undisputed King of CDMA;
Charles Kao, the Nobel Laureate whose research into fiber-optics was so crucial to their development;
Jack Grubman, the motormouth analyst with Salomon Smith Barney who did his bit to help inflate the dotcom bubble;
Mark Wegleitner, CTO of Verizon Communications and the man who did so much for FTTH and, more importantly, was always ready to talk to us;
and -- a controversial one this -- Huawei founder Ren Zhengfei. Good guy or bad guy? You decide. We daren't.

So there we have it: Movers, shakers and downright blaggards. This, friends, is the Light Reading Hall of Fame. Enter at your peril.

— Paul Rainford, Assistant Editor, Europe, Light Reading