Also in today's EMEA regional roundup: Telefónica improves content experience for roamers; state of French telecom revealed; Swisscom leans on Huawei for IP core; UK government cool with Comcast/Sky merger proposal.
The sliderphone is back! HMD Global , the Finnish company that bought the rights to use the Nokia brand on a range of handsets (some of them with a distinctly retro feel), has raised $100 million in funding from a group of new investors that includes Ginko Ventures and Foxconn subsidiary FIH Mobile. As Reuters reports, HMD managed to shift around 70 million of the Nokia-badged phones in 2017, and says it is now looking to place more emphasis on the smartphone end of its range. (See HMD Global Raises $100M and The Matrix Phone Reloaded.)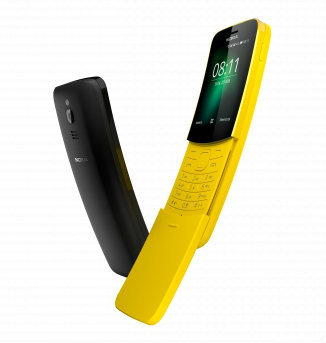 Telefónica International Wholesale Services has introduced a new service that it says will allow operators to optimize their subscribers' data sessions when they are abroad, giving them faster access to mobile content. The Data Optimization service, says Telefónica , adapts the content to the features of the particular device through which it is being consumed.
Arcep , the French telecom regulator, has published its annual scorecard on the state of the country's telecom industry, including operators' investments in fixed and mobile networks. The scorecard reveals that in 2017 French operators invested a total of €9.6 billion (US$11.35 billion) in their various networks, a figure that represents an increase of €660 million ($780 million) on the previous year.
Swisscom AG (NYSE: SCM) has turned to Huawei technology for its new IP core network, the plan being to separate the transport network from the services and products that run on it. The deployment is related to an ongoing project between the two companies, a project that could see Swisscom's network operations team shrinking from around 400 to just 40, according to Huawei Technologies Co. Ltd . (See Huawei Can Help Cut 90% of Networks Operations Jobs, Says Senior Exec .)
The UK's Secretary of State for Digital, Culture, Media and Sport, Matt Hancock, has given his blessing, for what it's worth, to the proposed merger between Comcast Corp. (Nasdaq: CMCSA, CMCSK) and Sky . In a ministerial statement, Hancock said that he was "minded" not to intervene and stated his belief that the merger "does not raise concerns in relation to public interest considerations which would meet the threshold for intervention." (See Why Sky's the Limit for Comcast.)
BT Group plc (NYSE: BT; London: BTA) is hawking a new service, 4G Assure, which provides small and midsized businesses with a back-up option if their fixed-line broadband bites the dust. Those companies taking up the offer will receive a mobile broadband dongle to complement BT's existing Business Smart Hub router, to which the router automatically switches should the fixed-line connection go down. BT says 4G Assure is the first product of its kind to support static IP addresses, which are relied on by many business to run their own websites.
Swiss companies Kudelski Group Group and u-Blox AG are teaming up on the Internet of Things, signing an agreement that will see Kudelski's IoT Security Suite being integrated into various u-Blox "location awareness"-related product lines. (See Kudelski Group & u-Blox Team on Secure Connectivity .)
Facebook CEO Mark Zuckerberg has agreed to have his meeting with the European Parliament leader later today web-streamed for public consumption, following criticism of an earlier decision to hold the meeting in private. As the BBC reports, European Parliament Antonio Tajani persuaded Zuckerberg that, in the context of the ongoing rumpus about the tech giant's lack of transparency, a closed session might not play well on the European stage. For those wanting to tune in later (at noon EDT), the link is here. (See Facebook: The Sick Man of Silicon Valley.)

— Paul Rainford, Assistant Editor, Europe, Light Reading