Apple Shaves Margins for LTE in New iPad
Apple Inc.
(Nasdaq: AAPL)'s decision to include 4G
Long Term Evolution (LTE)
connectivity will cost the device maker ... US$8.40 per device sold, to be exact. (See
Apple Intros First 4G LTE iPad
.)
According to estimates from
Light Reading
sister company
UBM TechInsights
, the new 16GB iPad packs a total bill of materials (BOM) of $310, compared to the iPad 2's original BOM of $276.27. Both retail for $629, giving Apple a 51 percent profit margin on the new iPad, compared to a 57 percent margin it earned on the iPad 2 when it first launched.
At $21, the LTE baseband chip in the new iPad added $8.40 to the device cost, up from $12.60 on the original iPad 2. But the most expensive new component was the new Retina display, which cost Apple $70 per device, compared to $49.50 for the iPad 2. The new iPad's 5MP camera also added $7.50 per tablet, and battery costs to keep up with the LTE speeds rose from $22 to $30 on the LTE iPad.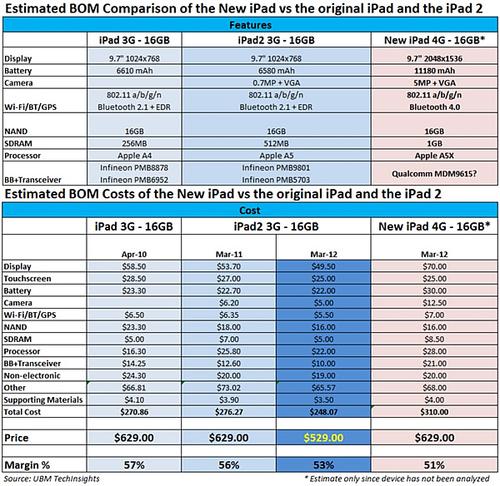 Note that Apple lowered the cost of the iPad 2 by $100, but its BOM has also decreased from March 2011 to 2012 owing to the natural decline of silicon and Apple's volume gains. According to Allan Yogasingam, TechInsight's technical research manager, the fact that Apple has sold over 100 million units puts it in a better position to negotiate pricing on components with their suppliers.
"Their suppliers will feel more comfortable in lowering their own margins with the knowledge that Apple will be purchasing their components in mass quantities now and in the foreseeable future," he says.
At 51 percent, Apple is still making a healthy margin on the LTE iPad, and likely kept prices the same as the landscape for tablets has changed significantly since it introduced the iPad 2. With more competition, and with Android tablets at lower price points, it didn't have much of a choice in keeping its cost to consumers down. And,
reports
suggest that certain models of the 4G version are already on backorder, so it should make up for the lower profit margin with its typically high volumes. (See
Amazon's Kindle Fire Sells for $55 Over Cost
and
Apple: the Numbers Behind the (Huge) Numbers
.)
TechInsights will perform an actual teardown on the new iPad once it is commercially available on Friday. We'll update the specs at that time.
— Sarah Reedy, Senior Reporter,
Light Reading Mobile
PARTNER PERSPECTIVES
- content from our sponsors