Competition is hotting up in the ever-growing tablet space, but Apple Inc. (Nasdaq: AAPL) is still the company some way ahead of the chasing pack.

With its category-defining device now sold through its own outlets, discount retailers, AT&T Inc. (NYSE: T), and Verizon Wireless , the tablet's momentum has everyone else fighting to keep up. (See The Tablet Tide Starts to Rise, Verizon Gets iPad With a WiFi Twist, and Verizon, AT&T to Hawk Apple iPads.)

Several analyst reports out this week have rival tablets enjoying steady growth over the next few years, but in a constant -- and potentially fruitless -- battle to oust the iPad. Juniper Research Ltd. says the number of annual shipments for tablets will reach 81 million by 2015, thanks to new Android-based entrants. (See Tablet Parade Looks to an Apple Takedown.)

For a more short-term view, Gartner Inc. says there will be 54.8 million tablets sold in 2011.

For the last quarter, there were 4.4 million tablets shipped worldwide, up from 3.5 million in the previous quarter, according to Strategy Analytics Inc. Of these, Apple's iPad made up 95 percent of the global market, up 26 percent from the previous quarter. That's clearly a huge lead, but one that Strategy Analytics thinks may be short-lived.

The second-largest player, Google (Nasdaq: GOOG), captured only 2.3 percent market share in the third quarter, but Strategy Analytics says that number is set to rise -- and fast.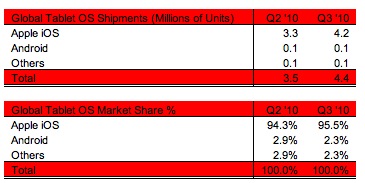 Samsung Corp. introduced the Galaxy Tab last month across all the carriers in the US, and Dell Technologies (Nasdaq: DELL) and others have also made quieter launches. Juniper says competition for the iPad will arrive in earnest in 2011 when QNX Software Systems -based BlackBerry devices, Windows Phone 7, and MeeGo tablets come to market. (See RIM Shows Off PlayBook Tablet, Sprint's Galaxy Tab in a Subsidy Orbit, and

4G World:

Verizon Picks Up the Tab.)

But, by that time, Apple should have a new version of the iPad to bolster its lead again.

The OS advantage
Apple may be the pioneer and leader, but it's actually the combination of iOS and the Android operating system that is putting the pressure on competitors. Juniper says that the quality of both OSs has affected BlackBerry , Microsoft Corp. (Nasdaq: MSFT), and Nokia Corp. (NYSE: NOK) the most.

These handset makers have been stymied by their close association with a specific operating system -- the BlackBerry OS, Windows Mobile, and Symbian Ltd. , respectively.

While all three have new OSs in the pipeline in the form of QNX for RIM, WP7 for Microsoft, and MeeGo for Nokia, they've been slow to come to market, leaving it wide open for Apple and Android to take over. (See OS Watch: Android's Fragmentation Makes Friends and Nokia's 'Unpolished Gems'.)

Netbooks feel the squeeze
Feeling the tablet burn the most is the short-lived netbook category of PC-smartphone hybrids. Juniper Research says this category will remain resilient in the business market, but ChangeWave is less optimistic.

The growing interest in the iPad and other tablets has come at the expense of desktop PCs and, especially, netbooks, ChangeWave says. In yet another tablet report today, it found that only 14 percent of 3,000 consumers surveyed said they may buy a netbook, down 10 points from June 2009, when interest in the product category was highest.

Further, 80 percent of those who plan to buy a tablet will purchase the iPad, although that could be because consumers weren't aware of upcoming alternatives. (See iPads Kill Netbook Growth.)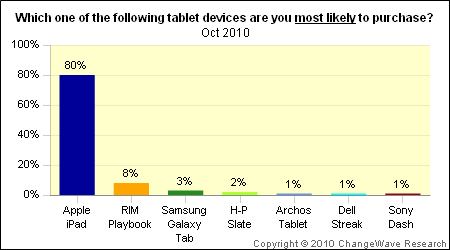 — Sarah Reedy, Senior Reporter, Light Reading Mobile