Amazon's $199 Tablet Is No Loss Leader

9/30/2011

Comment (0)

Amazon.com Inc. (Nasdaq: AMZN) is betting that the strength of its media business will make up for low margins on sales of its new $199 Kindle Fire tablet. It's a strategy that could pay off in a market where only Apple Inc. (Nasdaq: AAPL) has succeeded at charging a premium for a tablet. (See Amazon Fires Up Low-Cost Tablet Market.)

Its hardware may not be a wash either, however. While others have suggested that Amazon is losing nearly $50 per tablet it makes, a look at the Fire's components indicate there's actually a small profit in the hardware.

Based on its estimates of the bill of materials and cost for the Amazon Kindle Fire, iPad 2 and PlayBook, device experts at Light Reading sister company UBM TechInsights estimates that it costs around $150 to produce the 8GB Kindle Fire, compared to $170 for a 16GB PlayBook (the device it most closely resembles) and $270 for the CDMA/GSM versions of the 32GB iPad 2. Amazon cut costs on the hardware with its smaller screen size, by not including cameras or a mic, and by including half as much storage as the lowest-end models of both the PlayBook and the iPad 2. Connectivity is also a big cost to tablets as Amazon saves more than $20 by going Wi-Fi only.

As a result, Amazon makes a $49 profit, while Apple pulls in around $320 per tablet sold and RIM makes about $130 after price cuts to the PlayBook in reaction to the Fire. (Click here for a larger view.)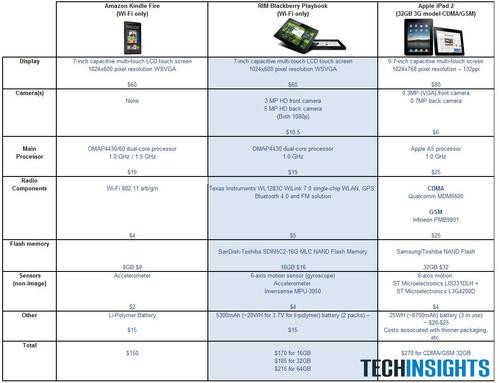 Here's a look at just the costs broken out, but refer to the larger image for the actual components in each.

Table 1: Tablets BOM Comparisons

Amazon Kindle Fire (Wi-Fi only)
BlackBerry Playbook (Wi-Fi only)
Apple iPad 2 (32GB 3G model-CDMA/GSM)
Display
$60
$60
$80
Camera(s)
None
$10.50
$6
Main Processor
$19
$19
$25
Radio Components
$4
$5
$25
Flash Memory
$8
$16
$32
Sensors (Non-Image)
$2
$4
$4
Other
$15
$15
$20 - $25
Total
$150
$170 for 16GB; $185 for 32GB; $215 for 64GB
~$270 for CDMA/GSM 32GB
Source: UBM TechInsights
Selling Amazon's ecosystem
The Fire's margins may not be high, but even if it were taking a loss on producing the tablet, it likely wouldn't matter. As an online retailer, Amazon is all about the services and the media it can sell from its ecosystem of partners to each Fire owner. And that's a good thing, says TechInsight VP of Business Intelligence Jeff Brown.
"They are delivering a mechanism for content; putting devices in as many hands as possible to start downloading music, books and videos," Brown says.
The biggest thing Amazon, like Apple, has going for it is that it has this content, plus its own browser and cloud services, integrated in one device. By relying on the cloud, extra storage isn't necessary, encouraging active media consumption. Plus, not only does it get new customers, it can keep those customers' data, target them with new relevant offers, and turn them into a recurring revenue streams.
These are already Amazon's strengths with its online presence, Brown says.
Apple is in a unique position in that it can do all this
and
charge a premium, but Amazon wasn't going to go head-to-head on the high end, he adds. That hasn't worked for device makers like
HP Inc.
(NYSE: HPQ),
BlackBerry
and
Motorola Mobility LLC
. (See
HP Brings TouchPad Back From the Dead
,
RIM Plans a Q3 PlayBook Revival
and
Moto Finally Xooms on Verizon LTE
.)
Instead, it's locking down an entirely new market of those who want an e-reader or those who want a tablet without spending $500
up front
.
"This is the first aggressive foray into the low end," Brown says. "And, it will be hard for others to respond because Amazon has this media business."
— Sarah Reedy, Senior Reporter,
Light Reading Mobile

(0) |