CHICAGO -- 4G World -- Remember when the smartphone was supposed to replace all your gadgets and be the sole device you needed to carry? Well, you can throw that idea in the trashcan of history if David Haight, VP of business development at AT&T Inc. (NYSE: T)'s Emerging Devices Organization, can encourage subscribers to buy the whole raft of new gizmos he hopes to launch in the next few years.

Haight kicked off the keynotes on the first day of the 4G World show with a vision of a world where a user could have dozens of devices connected to a carrier's network. The goal is to reach 300 percent wireless device penetration in 2013, building on a US market where the vast majority of the population already owns a cellphone.

For AT&T, the iPad has been the harbinger of that move to a multiple mobile device world. "They've been pretty successful," Haight deadpanned at the show.

On Monday, Apple Inc. (Nasdaq: AAPL) announced that it sold 4.19 million iPads in the quarter, a number that disappointed some analysts but appears to please AT&T. "The connected embedded device outsells the WiFi-only device by a landslide," Haight suggests.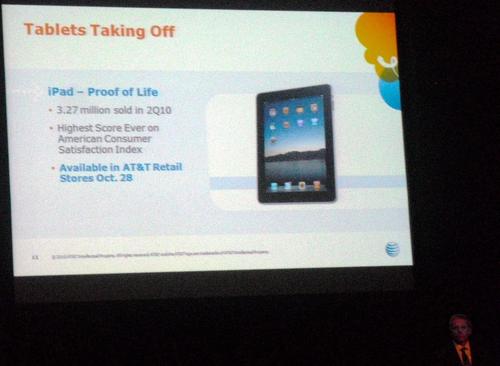 He says that the iPad has "opened up the doors" for fresh thinking about billing, control, and usage patterns for wireless. iPad users love the "aggressive rate plans," the lack of a monthly contract, and the ability to control payments from the device itself.

In turn, Haight suggests, the plans that are offered with netbooks and 3G-capable laptops are holding back that market. Users don't want to pay less for a netbook and be locked into a two-year contract but will pay upfront for an iPad that offers more control down the line.

So, expect to see more tablets from AT&T in the first and second quarter of 2011. Ahead of that, Haight says that the Samsung Corp. Galaxy Tab will be launched with an "innovative" plan.

"It will have a glorious holiday," Haight says.

After the tablet torrent, the long-planned proto-4G network upgrade will follow. Haight reiterated that AT&T is testing Long Term Evolution (LTE) now and plans to cover 70 million to 75 million people with the technology sometime in 2011.

The company is also upgrading its 3G network so that users can expect some thrust even when they hand off to the older network. "The good news is that you're going to fall back to HSPA+, so you're falling back to 21 megabits, not 7.2 or 3.6," Haight says.

As to how the industry gets to 300 percent device penetration in the next couple of years, many of the devices won't be data hogs but monitors and other devices that remain attached to the network.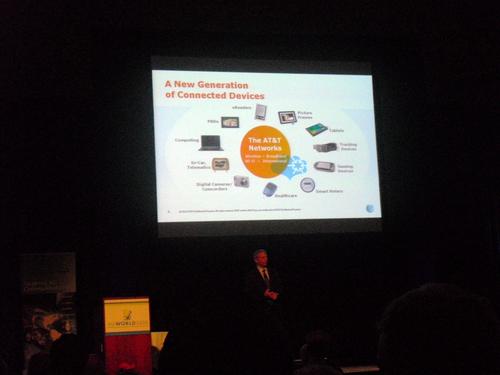 Haight is expecting pet and people tracking to be big; he also believes e-readers will continue to grow and mobile medical should take off, as well as wireless cameras and games consoles. Nonetheless, the devices boss doesn't believe it will be all smooth sailing to grow the market by such a large degree.

"We've got to innovate more than we have today to get these kinds of numbers," he told the crowd.

— Dan Jones, Site Editor, Light Reading Mobile