There have been some mixed signals lately about which mobile operating systems are best poised for growth on smartphones.

Analyst firm IDC says that, despite its slow start, Windows Phone will overtake Apple Inc. (Nasdaq: AAPL) to command the second-largest market share behind Android by 2016. But, if you ask the developers, the ones actually building for the different OSs, Apple is still the favorite, by far.

IDC believes that Android's growth will hit its peak and adjust down from 61 percent market share to 52 percent by 2016. During that time, Windows Phone will just continue to grow to 19.2 percent, just barely beating out Apple's 19 percent, in the same timeframe. If you believe IDC, that means Microsoft Corp. (Nasdaq: MSFT)'s fledging OS will grow at a rate of 46.2 percent a year over the next four years, while Apple stagnates, based on its single device sales.

But, apps analytics firm flurry Inc. 's recent analysis found that when it comes to developer support, at least, Apple remains king. For every 10 apps that developers are building, around seven are made for iOS compared to the three made for Android. That's due in large part to the fact that for every US$1 earned on Apple, only 24 cents is earned on Android. Meanwhile Windows Phone is still in the growth process for mobile apps, just recently topping 100,000 apps.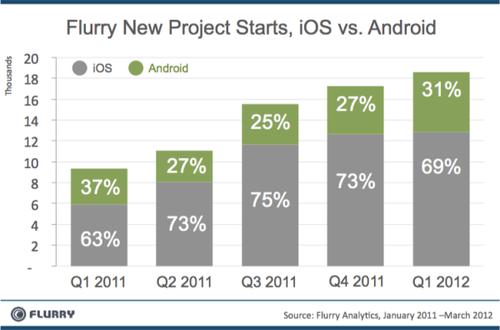 In other mobile OS news: