BlackBerry lost a little of its room to talk back to Apple Inc. (Nasdaq: AAPL) today as Strategy Analytics Inc. reports that Apple has surpassed it in total smartphone shipments in the third quarter.

Apple shipped 14.5 million smartphones in the quarter, only half as much as Nokia Corp. (NYSE: NOK)'s 26.5 million shipped, but more than RIM's 12.3 million. (See AT&T Drunk on iPhone Success, Sony Ericsson Rises & Falls, and Nokia's 'Unpolished Gems'.)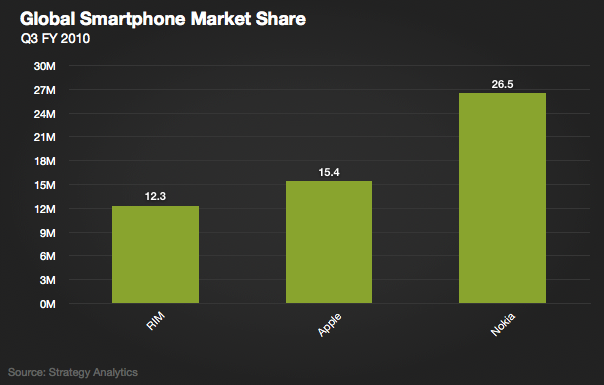 RIM's co-CEO Jim Balsillie said just days earlier in response to Apple CEO Steve Jobs's tongue-lashing on its third-quarter earnings call that RIM has achieved record shipments for five straight quarters and recently shared guidance of 13.8 to 14.4 million BlackBerrys for the third quarter, slightly more than Strategy Analytics reports.

He said that comparing Apple's September-ending quarter with RIM's August-ending quarter doesn't tell the whole story, because demand is stronger in the summer.

"As usual, whether the subject is antennas, Flash, or shipments, there is more to the story and sooner or later, even people inside the distortion field will begin to resent being told half a story," Balsillie jabbed.



The whole story is that smartphone sales have risen 78 percent since last year, Strategy Analytics says, due in large part to more advanced operating systems, touchscreens, and the boom in mobile apps.


Frag Watch: RIM wasn't Jobs's only victim this week. He also (needlessly?) informed investors that there are more than 100 different versions of Android software on 244 different handsets. And that the classification of Apple as closed and Google as open is disingenuous -- the real difference is that Android is fragmented.

"HTC and Motorola install proprietary user interfaces to differentiate themselves from the commodity Android experience," he said on the call. "The user's left to figure it all out. Compare this with the iPhone, where every handset works the same."


America Has Voted: Jobs be damned, The Wall Street Journal readers have voted on the best mobile OS, and the winner is -- Android! At press time, Android had 4,019 votes, totaling 54.8 percent, in WSJ's question of the day -- "Who makes the best mobile OS?"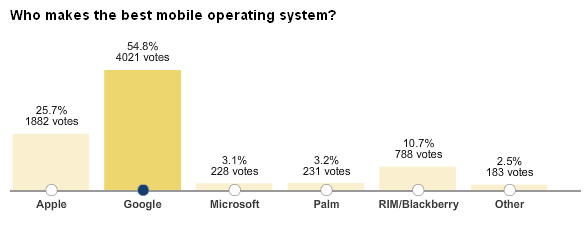 WP7 Wins & Wants: And then there's Microsoft Corp. (Nasdaq: MSFT)'s WP7. The company has taken a lot of flak for trailing so far behind its competitors, but its new OS is not just a me-too play. The company built some important differentiation in its made-from-scratch OS, although it also left out features that many consider table stakes. (See OS Watch: Android Earns Its Reputation.)

Here's our unbalanced list of WP7 Wins and Wants:




— Sarah Reedy, Senior Reporter, Light Reading Mobile