HTC Knocks Some Sense Into Developers
SAN DIEGO --
Uplinq
--
High Tech Computer Corp. (HTC)
(Taiwan: 2498) is making its mark on its Android smartphones and tablets with
HTC Sense
, its mobile user interface (UI) built around simplicity and personalization.
At
Uplinq
, HTC CEO Peter Chou invited developers to have a crack at making Sense more than just a UI too. The handset maker announced HTC Dev, a program that gives developers access to Sense as they develop their apps; offers resources and support for building for HTC; and provides a set of tools, plug-ins and an OpenSense software development kit (SDK) housed on
HTCDev.com
.
Chou shared some examples of how its initial partners have tied their apps to Sense already, including a Picasa app that stores photos right in the Sense Gallery, a 3-D Spiderman game from GameLoft and an art app from Zoodles that lets consumers use the HTC Flyer tablet's stylus as a paint brush.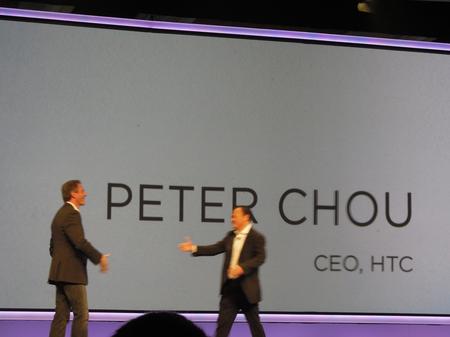 HTC is also stepping up the Sense experience on its own. Its latest update was to reimagine the lock screen, bringing to surface select information from an HTC Evo 3D or HTC Sensation users' home screen for quick status updates. "It gives you the experience of you turn on, check and turn off," Chou said.
Using the power of
Qualcomm Inc.
(Nasdaq: QCOM)'s processors coupled with its UI has also let HTC branch into new services like HTC Watch. The video app allows users to stream movies to their smartphones and tablets in a rich, immersive experience, Chou said. Likewise, a partnership with
OnLive Inc.
will bring low-latency mobile games to HTC's Android devices.
For handset makers like HTC, differentiating on the software level is an important way to stand out from their competitors. This is especially true with Android, the OS to which most handset makers are committed. It may not help Android's growing fragmentation problem, but it's one of few ways to distinguish a new device on the software level.
HTC is in an interesting position, too, because it is a big Android supporter and the first to launch a phone based on the OS, but it is also working with
Microsoft Corp.
(Nasdaq: MSFT) to build Windows Phone devices. Chou did not say if Sense will also make its way to future HTC Windows Phone devices.
— Sarah Reedy, Senior Reporter,
Light Reading Mobile
PARTNER PERSPECTIVES
- content from our sponsors