HP Inc. (NYSE: HPQ) revealed the devices, including a tablet and two smartphones, that will drive its mobile strategy Wednesday at a San Francisco event it called "Think Beyond," a coming-out party it has been teasing since International CES .

HP completed its US$1.2 billion acquisition of Palm Inc. last July, but this is the first significant mobile push the company has made. The company's mobile strategy will be built around connecting a user's various mobile devices, exploiting the cloud and ridding itself of the Palm name. (See HP to Buy Palm for $1.2B and HP Completes Palm Buy.)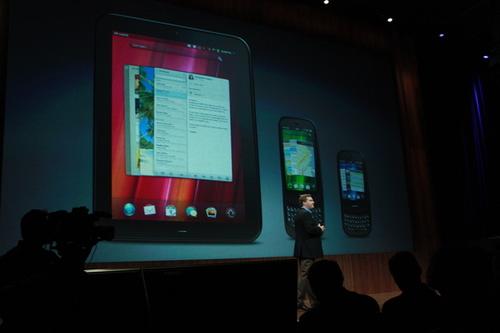 The Devices
HP TouchPad: HP's oft-discussed answer to the iPad got official Wednesday. The first in the webOS TouchPad family, weighing in at 1.6 pounds, features a zippy Qualcomm Inc. (Nasdaq: QCOM) Snapdragon dual-core 1.2GHz CPU.

Notably, webOS will work in tandem on the tablet and HP smartphones. It also includes a Touchstone dock that puts the tablet in exhibition mode for multitasking and synching activities on the phone to the tablet. A Wi-Fi version of TouchPad will be available this summer, followed by a 3G and 4G version. No price or carrier partner was announced.


HP Veer: "Never before has a smartphone done so much, and felt so little," Jon Rubinstein, former Palm CEO and senior VP and general manager of HP's mobile business, said in introducing the tiny Veer smartphone. The handset, the size of a credit card, is the first to use the Snapdragon 7230 processor and will support HSPA+ when it debuts in the spring.


HP Pre 3: The Pre 3 is being positioned as a phone you can use for business, but that you won't want to leave at work. It'll be available in two versions, HSPA+ and EVDO Rev A, to make it a "world phone." Its Qualcomm innards will run the fastest of all the devices', at 1.4GHz. And, at 3.6 inches, the multi-touch phone is bigger than its predecessors.

Rubinstein also mentioned in passing that the Pre 2 will be open to pre-orders on Verizon Wireless Thursday, a little over two years since the original Pre debuted.

The Software
In addition to its new shiny hardware, HP unveiled a number of software updates to differentiate it from its competitors, of which there are many. One demo that impressed was the ability to tap the Pre to the TouchPad and automatically bump a website between the two.

HP is also leaning on the cloud with Synergy, a service Palm introduced in early 2009. Todd Bradley, EVP of HP's personal systems group, says that cloud sync will be a big focus for webOS devices going forward. Synergy lets users merge their data and have it automatically updated on the phone. Since it's HP, all of the webOS devices it launches will also support wireless printing.

Bradley concluded by promising the crowd that HP is thinking beyond today and plans to take webOS to other connected devices, including printers, PCs and "some form factors you haven't seen before." (See Palm Plots Beyond Phones.)

"What you saw today is just the beginning," Bradley promised. — Sarah Reedy, Senior Reporter, Light Reading Mobile