Google (Nasdaq: GOOG) has taken away the one bragging right Symbian Ltd. had left -- global market share leader. According to a report Monday from Canalys.com Ltd. , Android became the leading mobile operating system in the fourth quarter of 2010 with 32.9 million devices shipped across the globe, while Nokia Corp. (NYSE: NOK)'s Symbian OS only shipped on 31 million devices. (See Analyst: Android Overtakes Symbian.)

Nokia did maintain its top slot as a hardware maker, however, capturing 28 percent market share, Canalys notes. Overall, the smart-phone market grew to 101.2 million units shipped in the three months rounding out 2010, an 88.6 percent bump from the fourth quarter of 2009. For the entire year, shipments reached nearly 300 million units, representing 80 percent growth over the previous year.

Android has LG Electronics Inc. (London: LGLD; Korea: 6657.KS) , Samsung Corp. , Acer Inc. and High Tech Computer Corp. (HTC) (Taiwan: 2498) to thank for its growth spurt. Each grew at least 300 percent year-on-year, but HTC and Samsung alone accounted for 45 percent of the Android shipments. In the U.S., Android out-shipped BlackBerry 's BlackBerry line by a factor of three.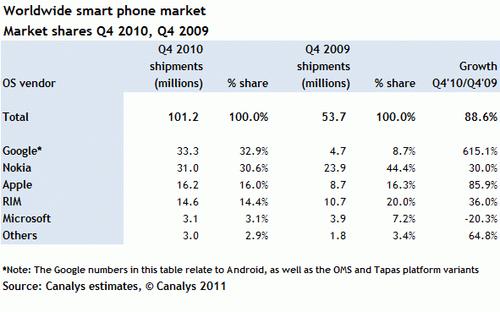 Why this matters
Android is clearly a force to be reckoned with, and it's having a profound effect on its competitors. Symbian has always dispelled its critics by pointing out that it's still the global market leader and troubles are just U.S.-centric, but clearly the tides are changing. This is the first time in 10 years Symbian has been dethroned. It won't be an easy seat to take back either.

Android is growing in another important category too: tablets. The OS captured 21.6 percent of the global market share for tablets in the fourth quarter, up from only 2.3 percent in the previous quarter, according to a separate report from Strategy Analytics Inc. . That's important progress, especially given that Honeycomb, the only OS update Google is touting as made for tablets, has yet to be officially released. Here, again, Android has Samsung to thank, since it has sold 2 million Galaxy Tab devices. (See CES 2011: The Daily Tablet and OS Watch: Samsung Tabulates a Record Quarter.)

Apple Inc. (Nasdaq: AAPL) still accounted for 75.3 percent share of the tablet market, but this year will prove the tablet story is no longer only about one company -- even if Apple disagrees. (See Apple Dominating Tablet Takeover.)

Likewise, the global story will be about either finding a way to beat Android or, taking the path of least resistance, and joining it in its quest for total world domination. (See Rumor: RIM Bringing Android Apps to QNX.)

For more
For more on the OS wars, check out our weekly OS Watch series, and these stories on Android and Symbian's respective rise and fall:



— Sarah Reedy, Senior Reporter, Light Reading Mobile