12:40 PM -- I've written in the past about Android's fragmentation foibles, so I also have to give Google (Nasdaq: GOOG) credit where it's due. And it's definitely due. (See Android's 5 Flavors of Fragmentation, Android's Fragmentation 'Problem', and Android Gains Apps Developer Love.)

With its latest stats out, it looks as if most Android-based phones are aligning themselves with versions 2.0 or higher, making fragmentation less of an issue for developers.

Nearly two thirds of Android users are running versions 2.1 or 2.2, primarily the former. Google says that 59.7 percent of users are running Android 2.1, and 4.5 percent have upgraded to 2.2. Version 2.2, Froyo, updates are rolling out now, so that piece of the pie is set to grow, too -- perhaps at the expense of 2.1. But some handsets, like the Droid X, will have to wait until next month to get the feature-rich update.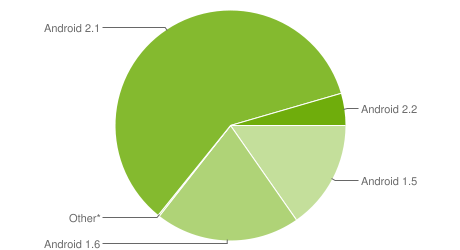 This is great news for developers, who want to incorporate the latest and greatest features without alienating the 1.0-level users who can't run them. It's also good news for consumers, who want to stay on the cutting edge.

But it's mostly good news for Google, which had promised to do its part to reduce this (make-believe) fragmentation. Its mobile efforts in general are continuing to pay off as well. About 200,000 Android devices are getting activated each day, according to Google VP of Engineering Andy Rubin, and the OS is set to overtake Apple Inc. (Nasdaq: AAPL)'s iOS in global shipment volumes during 2012, says IHS iSuppli

At that time, the analytics firm says, Android will be used in 75 million smartphones, up from 5 million in 2009, and iOS will be in 62 million devices, up from 25 million. That gives Android a 19.4 percent global smartphone market share, while iOS will only grab 15.9 percent.

In the US, Android has already overtaken iOS and BlackBerry 's BlackBerry lineup, according to the NPD Group Inc. (See Smartphone Wars Pay Off in Q2.)

Android is fast becoming the smartphone force to be reckoned with. With so many form factors and OS updates, it hasn't yet bagged the benchmark phone all others get compared to -- that's still the iPhone. As Android continues to grow, however, you can bet its handset-maker partners see that as the next bragging right to conquer.

— Sarah Reedy, Senior Reporter, Light Reading Mobile