A slew of innovative startups are attempting to loosen Cisco Systems Inc.'s (Nasdaq: CSCO) grip on the emerging wireless VOIP market, according to the latest Unstrung Insider.

The report -- Wireless VOIP: The Path to Enterprise Fixed/Mobile Convergence -- assesses vendor development of voice over WLAN (VOWLAN) technology and the recent glut of high-level partnerships among handset, IP telephony, and WLAN infrastructure suppliers that is pushing the pace of integration and interoperability (see VOWLAN Gets a Kickstart and Roll On, Wireless VOIP).

Looking specifically at the use of VOIP in the enterprise WLAN infrastructure segment, report author Gabriel Brown attempts to position vendors according to two measures: the design of the WLAN network architecture and its support for VOIP; and the overall wireless VOIP positioning of the vendor.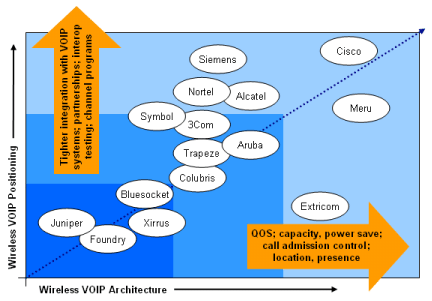 The chart above shows Cisco in a leading position on both measures. "In the WLAN space, its market share, coupled with the Airespace acquisition, gives it unrivalled strength. On the IP telephony side, its leadership of the pure IP PBX market, in-house wireless VOIP phone, and partnerships with Nokia and Motorola account for its high rating." (See Moto, Cisco Go Dualmode.)

Not that Cisco is grabbing all the attention. In fact, Brown cites a bevy of newcomers aiming to wrest market share. "Among the startups, Meru Networks is the standout player, with the most voice-friendly wireless infrastructure product on the market, and is notable particularly for its call admission control software modules, which have been introduced significantly ahead of the market." (See Meru Intros VOIP WLAN Module and Meru Maxes on Wireless VOIP.)

Elsewhere, Brown adds that similar software releases are scheduled for release either later this year or early in 2006 from the likes of Aruba Wireless Networks, Colubris Networks Inc., and Trapeze Networks Inc.

Among the early-stage WLAN startups, companies such as Extricom Ltd. and Xirrus Inc. are also pushing back the barriers to wireless VOIP.

"From a pure technology perspective, perhaps the most interesting WLAN startup is the Israel-based Extricom," says Brown. "The interesting part is the MAC-layer processing, along with what the firm calls its 'per-packet adaptive architecture.' This essentially means the network makes decisions about which access point should service which client on an almost real-time basis. The effect, then, is that a wireless VOIP phone could be transmitting and receiving from several access points at almost the same time, based on QOS parameters." (See Extricom's 'Perfect' WLAN.)

In addition, Brown points to Xirrus as one to watch, noting that the vendor is bucking the trend of shrinking down the size of enterprise APs and switches with its high-throughput WLAN Array product (see Reinventing the WLAN Wheel?).

— Justin Springham, Senior Editor, Europe, Unstrung


---


The report, Wireless VOIP: The Path to Enterprise Fixed/Mobile Convergence, is available as part of an annual subscription (12 monthly issues) to Unstrung Insider, priced at $1,350. Individual reports are available for $900. To subscribe, please visit: www.unstrung.com/insider.