Traditional network operators have not tended to view WiFi as a major revenue-generating opportunity, but a San Diego-based startup called XCellAir is hoping to convince them otherwise.
Spun out of wireless patents player InterDigital Inc. (Nasdaq: IDCC), from which it received a second tranche of funding in July, the 25-employee company is brandishing a new piece of research that suggests operators in the world's ten biggest financial centers alone could be missing out on an $18 billion opportunity as a result of poor WiFi management over the next five years. The software XCellAir has developed is designed to help customers make some improvements in this area, and it could persuade operators to take WiFi a lot more seriously in future.
Commissioned from analyst firm Real Wireless, the research is not the usual marketing tool but something XCellAir is using to justify its very raison d'ętre during discussions with investors and potential customers. Todd Mersch, XCellAir's executive vice president of sales and marketing, describes it as a "validation" of the company's existence.
For a tiny company just emerging from the shadows, XCellAir already appears to be attracting plenty of interest. Mersch had as many as 40 meetings with potential clients during this year's Mobile World Congress and looks set to begin trials with four, including two MSOs in North America, an ISP in Japan and an Asian mobile operator. Another 11 to 15 are "a bit further behind," says Mersch.
Interest is rising partly because mobile operators are increasingly investing in WiFi offload to relieve pressure on congested cellular networks, but also as WiFi grows in importance for US cable operators trying to compete in the country's wireless market. Concern about a clash between WiFi and LTE networks operating in unlicensed spectrum bands could also fuel interest in XCellAir's technology, says Mersch. (See Qualcomm Wants FCC to Stay Out of LTE-U Fray.)
---
For all the latest news from the wireless networking and services sector, check out our dedicated mobile content channel here on Light Reading.
---
So what, exactly, does XCellAir's software do? As Mersch describes it, there are three key elements. "The first is optimizing the radio and allowing operators to more efficiently use spectrum," he says. "The second is taking remedial action when there are coverage and capacity problems based on a centralized view of the network, and the third is enabling operators to scale up without having to put in gateways at particular locations and by using the same software across different markets."
At the moment, the main target is WiFi, but XCellAir's technology could eventually support operators deploying LTE small cells in unlicensed spectrum, which explains why Mersch is so interested in the current debate about potential interference between these different networks.
How, then, does all this equate to an $18 billion opportunity across the world's ten biggest financial centers? According to the research commissioned from Real Wireless, an operator with a 25% share of the mobile market in New York City would be able to realize $71 million in cost savings by using XCellAir's technology over a five-year period. "We know WiFi offload saves on transport costs, but automating that process brings down the operational costs," explains Mersch.
Far more interestingly, the XCellAir customer could generate an additional $303 million in revenues from new services, according to Real Wireless, by using the cost savings to attract price-sensitive customers. Essentially, says Mersch, XCellAir's technology should put operators in a position to challenge the low-cost MVNOs and "WiFi-first" players that have been undercutting them on pricing, and cost-effectively attract "marginal" customers to their networks. "These are not high-spending customers but they can deliver hundreds of millions of dollars in revenues in a dense urban area," says Mersch.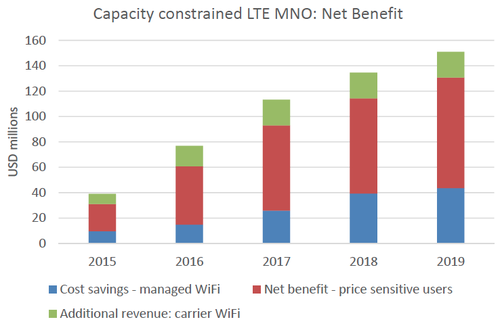 After working out the size of the opportunity in New York, Real Wireless extrapolated its calculations to include "all operators" across the cities of New York, London, Tokyo, Singapore, Hong Kong, Shanghai, Paris, Frankfurt, Beijing and Chicago. The result came out at $17.9 billion in a mixture of cost savings and additional revenues.
This is compelling stuff, but XCellAir is clearly not the only player targeting this business and a minnow compared with established rivals, which include the likes of Cisco Systems Inc. (Nasdaq: CSCO), Ericsson AB (Nasdaq: ERIC) and Ruckus Wireless Inc. . According to XCellAir, however, the WiFi OEMs have generally focused on the enterprise and shown little interest in the residential sector or in enabling hardware and software separation.
"There are a few other startups but they have been around a long time and investors are exhausted," adds Mersch. With announcements on customer trials imminent, XCellAir will be keen to ensure its own backers remain fully engaged.
— Iain Morris,

, News Editor, Light Reading