Ruckus Wireless Inc. is elbowing its way into the budding cable WiFi sector with a strand-mounted 802.11n access point that's optimized for hybrid fiber/coax (HFC) networks and takes direct aim at a market that's been dominated by BelAir Networks Inc. and Cisco Systems Inc. (Nasdaq: CSCO).

Ruckus is getting into the game with the ZoneFlex 7761-CM, a plant-powered, dual-radio WiFi access point that bakes in Docsis 3.0-based backhaul capabilities thanks to a Broadcom Corp. (Nasdaq: BRCM)-based cable modem that can bond eight downstream channels and four upstream channels. (See Ruckus Offers WiFi Smarts to Cable .)

Ruckus intends to one-up BelAir and Cisco with a product that uses Ruckus's patented smart antenna and dynamic beamforming technology. Instead of leaning on typical omni-directional antennas that transmit and receive data in all directions at the same time, Ruckus says its system connects users with concentrated data beams that are less vulnerable to range limitations. That technology, which sits on top of the device's Atheros Communications Inc. (Nasdaq: ATHR) WiFi chip, is designed to constantly monitor and acknowledge the quality of the data rate and move to a different path if the user requires better speed.

Ruckus VP of marketing David Callisch likens the differences between the approaches to a lightbulb in a dark room that emanates light equally in all directions to a powerful flashlight that spotlights a subject and tracks that subject as it moves.

Ruckus is entering the game as portions of the cable market get ready to help deal with a tsunami of WiFi-capable mobile devices, including the Apple Inc. (Nasdaq: AAPL) iPad, and to offer mobile broadband options to on-the-move business customers. Most of this activity has centered in the New York City region, led by Cablevision Systems Corp. (NYSE: CVC)'s big Optimum WiFi deployment, coupled with roaming arrangements with Time Warner Cable Inc. (NYSE: TWC) and Comcast Corp. (Nasdaq: CMCSA, CMCSK). BelAir and Cisco have been making the most hay off of those deployments so far. (See MSO WiFi: Roam (If You Want To), Comcast Gives WiFi a Try , and Cablevision Expands WiFi in NJ.)

Because its technology offers stronger signals and can help steer around obstacles that tend to be the bane of WiFi, Ruckus claims that it can get a two-to-three-times speed performance gain over omni-directional WiFi gear at a given range. Callisch estimates that Ruckus's cable-optimized 802.11 product can get about 150 Mbit/s to 200 Mbit/s of actual throughput per radio (the ZoneFlex 7761-CM is equipped with two radios). But actual speeds per user will vary because capacity on any given access point is shared amongst users.

But Ruckus claims that operators will see a capital and operational cost improvement because its approach will require fewer access points to cover a given area.

Ruckus developed the product after the cable industry approached it about developing a unique stand-mounted implementation that uses the vendor's smart antenna system and could help the industry "take the next step," according to Callisch.

Ruckus doesn't have any buyers for it yet, but claims that at least two "major MSOs" are trialing the ZoneFlex 7761-CM, with hopes that deployments will start during first half of 2011.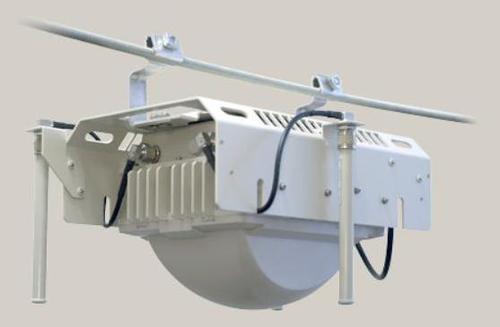 Ruckus's entry could alter the competitive landscape for cable-optimized WiFi network gear, says Berge Ayvazian, senior consultant with Heavy Reading.

"It changes the game from a duopoly where cable operators have only the choice between Cisco and BelAir to a three-way race in which one company is pushing innovation and advanced antenna design and performance as a differentiator," he tells Light Reading Cable

But it's still hard to say how broadly and how rapidly Ruckus will be able to exploit its purported advantages, since most of that activity remains über concentrated. "It's unclear if the MSOs are going to go beyond the New York metro and invest in this technology and capability elsewhere," Ayvazian says.

Still, Ruckus isn't a cable stranger. Bright House Networks is using a different set of Ruckus products to supply wireless broadband access to apartments and other multiple-dwelling units. In 2008, Ruckus impressed cable engineers at a CableLabs conference with an in-home 802.11n video distribution platform that AT&T Inc. (NYSE: T) is already using to help shoot its U-verse IPTV service around customer homes. Ruckus, by the way, will be showing off its new strand-mounted gear at the CableLabs summer conference that takes place this week in Keystone, Colo. (See Ruckus Rules and AT&T's U-verse Gets Ready for Ruckus .)

BelAir plays with picocells
Ruckus may be encroaching on some new turf, but incumbent supplier BelAir isn't standing pat.

It's trying to expand its cable presence with the 100SP Strand Picocell, a compact wireless base station that includes Docsis 3.0 (for backhaul), unlicensed WiFi, and licensed 3G capabilities. In addition to giving cable ops the continued ability to provide mobile WiFi services, cable could also use it to offload 3G traffic, says Dave Park, Bel Air's VP of product marketing. (See BelAir Pitches Wi-Fi/3G Picocell At Cable .)

MSOs could use that same device, he says, to offload an operator's own 3G service traffic or get paid to help backhaul the 3G traffic of other wireless service operators -- a group that could be increasingly interested in affiliating or aligning with cable to alleviate the stress on their cellular networks.

As for the first option, it could come in handy for MSOs, such as Comcast and Time Warner Cable, that are offering mobile data plans that factor in 3G and WiMax via a partnership with Clearwire LLC (Nasdaq: CLWR). It could also factor in at Cox Communications Inc. , which is starting off with 3G-based services that piggyback on the Sprint Corp. (NYSE: S) network, but is also building its own wireless networks using spectrum gained at auction. (See Cox Finds Friends for 3G Wireless Trials in Omaha and Cox Wireless: Soup to Nuts .)

Park says the picocell architecture, which uses smaller-sized cells, is positioned to do a better job than macrocells at addressing the massive data requirements envisioned for mobile services that consumers will be leaning on for video and other bandwidth-intensive apps.

BelAir, which is also showing its latest wares at this week's CableLabs confab, says it has two lead customers for the 100SP Strand Picocell but isn't naming them.

— Jeff Baumgartner, Site Editor, Light Reading Cable