MSO WiFi: Roam (If You Want To)

Comment (5)
Cablevision Systems Corp.
(NYSE: CVC),
Comcast Corp.
(Nasdaq: CMCSA, CMCSK), and
Time Warner Cable Inc.
(NYSE: TWC) have formalized a WiFi roaming deal that allows their cable modem subs to tap into wireless canopies the MSOs have constructed in the New York City metro area.
That cross-MSO deal solidifies a bunch of WiFi-related activities that are already well underway at each operator.
Last month, TWC and Cablevision announced an arrangement that allows high-speed subs in NYC to connect to each MSO's home-grown WiFi network. Comcast, meanwhile, has been running a technical WiFi trial involving about 100 New Jersey Transit commuter rail stations. (See
Time Warner Cable Flies WiFi in NYC
and
Comcast Gives WiFi a Try
.)
Of those MSOs, Cablevision has been the most aggressive with WiFi and boasts a much larger
wireless footprint
. Cablevision spokesman Jim Maiella notes that the MSO's customers are currently averaging more than 2 million sessions per month on its
Optimum WiFi
service.
Today's agreement paves the way for Cablevision, Comcast, and TWC cable customers to authenticate themselves on each other's WiFi network -- a benefit that's bundled in as a "free" feature of their cable modem service subscriptions.
Heavy Reading
analyst Berge Ayvazian says the roaming deal "represents a major breakthrough for cable broadband customers," noting that WiFi connectivity is forecast to be embedded in more than 1 billion mobile devices by 2012.
"This [roaming agreement] is active today -- authentication for all three networks is present on every access point," Maiella told us via email. To prove the point, he attached a screenshot taken from his
Apple Inc.
(Nasdaq: AAPL) iPad: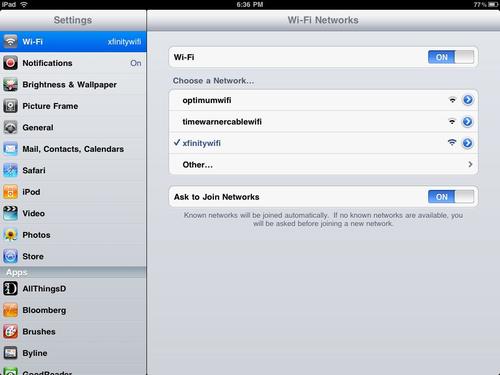 And this WiFi roaming deal among MSOs in the NYC metro area may mark the first of many more like it, as mobile data usage continues to rise and wireless becomes an increasingly important component of cable broadband service strategies.
"This agreement -- the first of its kind and, we believe, the first of many -- combines the reach and the value of our respective WiFi deployments," said John Bickham, Cablevision's president of cable and communications, in a statement.
And the deal indicates that Comcast and TWC intend to further complement their existing mobile WiMax products, offered via their partnerships with
Clearwire LLC
(Nasdaq: CLWR), with WiFi-based services that attempt to add value to their wireline high-speed Internet offerings.
The potential for that could play into the hands of vendors such as
BelAir Networks Inc.
, which has been linked to some of cable's higher-profile WiFi buildout efforts, and has developed a dualmode WiMax/WiFi basestation. (See
Doing Double Duty
.)
— Jeff Baumgartner, Site Editor,
Light Reading Cable
PARTNER PERSPECTIVES
- content from our sponsors
GUEST PERSPECTIVES
- curated contributions