For its next trick, wireless broadband startup Mimosa Networks is readying a tiny smart radio that can deliver low-cost, high-speed WiFi to city apartments.
Campbell, Calif.-based Mimosa Networks Inc. describes its new C5i as the "first Hotspot-to-the-Home Gateway." The concept is that the self-install device does away with expensive CPE units by talking with outdoor 5GHz access points while delivering up to 500 Mbit/s to the user indoors.
Mimosa's radio technology is rooted in WiFi, but the company has significantly souped it up. The firm uses a "Massive MIMO" 4x4 antenna array and beam-steering to crank up the range of its radios. (See Mimosa's Backhaul Bubbles With Massive MIMO.)
---
Want to know more about WiFi technologies? Check out our dedicated carrier WiFi content channel here on Light Reading.
---
The company has so far unveiled backhaul radios and outdoor access points. The hotspot-to-the-home is the first product aimed at the guy -- or gal -- on the street, or, you know, in their home. The C5i is essentially switching the focus of what Mimosa has done so far by using its technology to magnify weak signals into faster home connections.
The C5i connects to any outdoor 5GHz WiFi access point, though Mimosa says that there are significant spectrum re-use, capacity and performance advantages when connected to a Mimosa access point.
"It's a super-slick little white guy that just sticks to your window," says Kelly Kinsella, senior product marketing manager at startup Mimosa. The device connects to outdoor radios over 5GHz but spits out 2.4GHz WiFi in the user's apartment.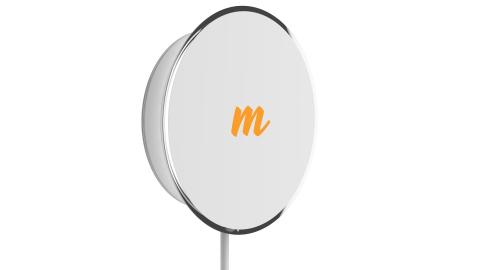 Kinsella says the C5i is aimed at delivering fast WiFi connections in dense city environments. "Its completely non-line of sight," says Kinsella.
The company has a smartphone app that the user can use to walk round their domicile to find where the best signal strength. "Its completely self-install... so there's no more truck-roll," says Kinsella.
The C5i is available for pre-order now at $119 and will begin shipping in spring 2015.
— Dan Jones, Mobile Editor, Light Reading