Devicescape Preps Auto WiFi-to-Cellular Software

Comment (6)
WiFi aggregator Devicescape has developed smartphone software that can automatically pick between cellular and WiFi, depending on which is the best connection, and expects to launch it with a carrier later this fall.
Devicescape Software Inc. CMO David Nowicki showed off the Devicescape 5.0 adaptive network selection software to Light Reading at Super Mobility Week in Las Vegas last week. The update allows the user to choose between a WiFi connection, a 4G LTE cellular connection or have the software pick the best connection at any given time. The software works through various steps -- including measuring relative signal strength and performance of connections -- behind the scenes to select the best connection if that option is chosen.
Here's how the selection interface will look to the user: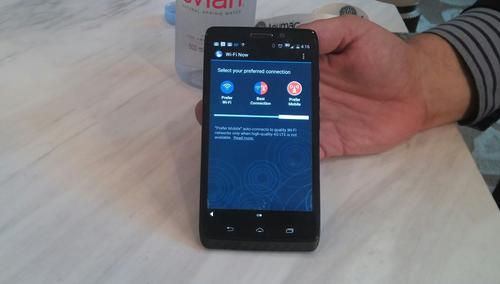 "We're in trials right now with existing [operator] customers," Nowicki told us. "Our first customer is going to deploy it in October or November."
Devicescape has a number of Tier 2 operators in the US, such as C Spire , as well as MVNOs like Republic Wireless . Combining its new adaptive connection capability with WiFi calling from an as yet unnamed supplier has scored Devicescape a Tier 1 trial in the US too.
"We're currently running a trial with a Tier 1 here in the US, which I think is fascinating," Nowicki said.
---
Want to know more about carrier WiFi? Check out our dedicated channel here on Light Reading.
---
Devicescape can do this because it has has pulled together a network of millions of "amenity WiFi" hotspots in small restaurants, bars and stores worldwide. This can enable smartphones -- with its software onboard -- to get connected to the local WiFi connections without having to sign on.
Nowicki said that "one in three customer-facing businesses in the US" now offer their customers WiFi, a number that rises to one in two in a city such as San Francisco. (See The Changing Face of 'Amenity WiFi' .)
"The most significant thing we're seeing with our customer base ... is this general understanding that WiFi is not just a capacity play but that it's a user experience play," Nowicki said.
— Dan Jones, Mobile Editor, Light Reading