Consumer Broadband Focus Shifts From Big Billboard Speeds to a Broader, Whole-Home Experience

Comment (0)
LONDON -- Cable Next-Gen Europe -- The delivery of gigabit speeds no longer stops at the customer's front door. Consumers increasingly expect their ISPs to package in -- or make optional -- whole-home WiFi systems that bathe the home in wireless connectivity and deliver a solid experience to every corner.
For service providers, that means the development and deployment of powerful lines of WiFi gateways. For customers with larger homes, it also means providing WiFi extenders that talk to those gateways and a system that is all underpinned by cloud-based software and (often) a mesh-based architecture that can enhance and improve connectivity based on how that traffic is traversing the home's WiFi network.
And while some ISPs are starting to bundle whole-home set-ups in their core offerings, most view it as a potential revenue stream. These setups will usually require a premium upgrade to the monthly service or ISPs might sell WiFi extenders that connect to the core software platform. (See Why ISPs Are High on Whole-Home WiFi.)
When a customer buys a 1-Gig broadband service, they expect the ISP to deliver, Ian Challinor EVP and GM of the EMEA and APAC regions at AirTies said here Tuesday at the "Managing 1-Gig Services & WiFi -- Lessons Learned" panel. (See AirTies Hikes Hardware-Agnostic Path as Whole-Home WiFi Takes Off .)
"The delivery mechanism is irrelevant. They just want what they paid for," Challinor said.
Though SpeedTest continues to be a key use case for gigabit services as consumers check to see if they are indeed getting what they pay for, there's also an "expectation problem" that needs to be resolved because consumers expect high speeds to be delivered beyond the home gateway, said Michael Clegg, VP of global sales at Plume Design Inc. , a WiFi software and device maker that counts Comcast Corp. (Nasdaq: CMCSA, CMCSK) among its financial backers and deployment partners.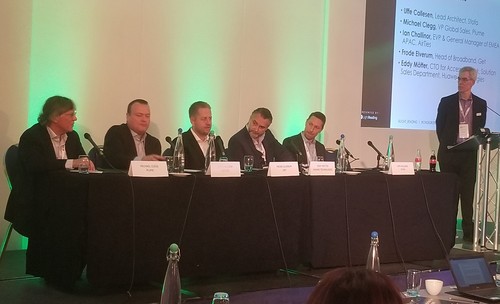 Stofa of Denmark is also moving ahead with 1-Gig deployments, but has likewise found that providing solid in-home WiFi performance and coverage is more important than ever, given that most of the devices that connect to the Internet in the home are doing so with WiFi, Uffe Callesen, lead architect at Stofa, said. However, it's difficult to stay ahead of the technology curve with WiFi given the presence of a large mix of legacy devices that use an older version of the standard, he added. (See Arris Gets a Fix on WiFi 6.)
And though few, if any, end devices require or use a full 1 Gbit/s connection, providing solid connectivity to every part of the customer's home has become a paramount focus for service providers, Clegg pointed out.
Providing a whole-home WiFi offering can also become a point of differentiation for ISPs, said Frode Elverum, head of broadband at Norway-based service provider Get , noting that the company does field many requests about WiFi upgrades from consumers that don't have a vast technical understanding of how WiFi works.
Panelists here also did not view 5G, which is starting to emerge as a fixed wireless alternative broadband connection, as a significant threat to WiFi, particularly when it comes to in-home connectivity
"You'll see a WiFi tail on the back end of 5G," Clegg said, noting that some spectrum used for 5G services isn't all that "friendly" in the home.
And the general story with residential 1 Gbit/s broadband services has not changed much -- customer adoption of such speeds remains relatively low and, for now, have served primarily as a competitive response against rivals that run FTTP networks.
Norway's Get started with a soft-launch of gigabit service and plans to ramp things up a bit more in early 2019 as it looks to put 1-Gig into its most attractive TV and broadband bundles. However, few customers need 1-Gig. "It's more about the competitive positioning of our offering," Elverum said.
"1-Gig, as a tier, is used really as a marketing tool," agreed Eddy Mötter, CTO for Access Network, Solution Sales Department at Huawei Technologies Co. Ltd . While that's the case today, it's inevitable that apps and services that will require gigabit speeds will emerge. "That [capacity] space will be filled," Challinor said, predicting that 1-Gig broadband will become the "de facto norm" within five to ten years.
— Jeff Baumgartner, Senior Editor, Light Reading
PARTNER PERSPECTIVES
- content from our sponsors