Cable's MVNO Option May Speed Wi-Fi Rollouts
A condition that lets
Verizon Wireless
's cable friends pursue an MVNO option almost right away could quicken the pace of MSO Wi-Fi deployments and put MSOs into position to nail down a hybrid class of mobile voice services, a top industry analyst says.
In approving the sale of AWS spectrum of four cable operators (
Comcast Corp.
(Nasdaq: CMCSA, CMCSK),
Time Warner Cable Inc.
(NYSE: TWC),
Cox Communications Inc.
and
Bright House Networks
) to Verizon Wireless, the
U.S. Department of Justice
included a condition that allows the MSOs to offer Verizon Wireless services under their own brands almost right away. The DoJ also inserted a condition that enables the MSOs to partner with other wireless partners starting in five years.
The original contract didn't let the cable operators invoke the MVNO option for four years, with the connection between Verizon Wireless and the MSOs to last into perpetuity. That original four-year wait on the MVNO option is now removed, or will be gone once the
Federal Communications Commission (FCC)
puts its stamp on it, too. (See
Cable OK to Attack FiOS With Verizon Wireless
and
Verizon Wireless: Cable's New BFF
.)
According to
Sanford C. Bernstein & Co. Inc.
analyst Craig Moffett, this revised, DoJ-blessed MVNO arrangement "is potentially the missing piece in what is potentially a highly disruptive wireless offering" for the cable operators.
The disruptive thing Moffett posits is a hybrid, low-cost service that offloads traffic on Wi-Fi first and uses cellular as a backup.
And there's already lots of evidence to back up that cable has such services in mind. For starters, many of the major cable operators are getting aggressive with their own Wi-Fi networks, going as far as creating roaming agreements. (See
Cable Goes Big With Wi-Fi Roaming
and
TW Cable's Wi-Fi Rolls With Ruckus
.)
Plus, operators have shown interest in offering voice over Wi-Fi, at least as a complement to cellular services. At The Cable Show in May, Comcast showed off Voice2Go, an app that lets customers place free outbound phone calls using Wi-Fi-connected phones, tablets and PCs. FierceCable, meanwhile, has come across a
TW Cable patent
for Wi-Fi roaming, and
another one
from
Cablevision Systems Corp.
(NYSE: CVC) that envisions a hybrid Wi-Fi/cellular service offering. (See
Comcast Gives Wi-Fi a Voice
.)
Moffett acknowledges that Wi-Fi is unlikely to serve as a full wireless substitute due to coverage and reliability limitations. "Paired with an MVNO agreement, however, a Wi-Fi-first network could be a game changer," he noted. "Such an offer could be extremely disruptive to the wireless industry, but only if the cable operators had sufficiently dense Wi-Fi networks ... and a willing MVNO partner."
The cable operators have the MVNO partner covered, and, thanks to the DoJ, will be able to act on it as soon as they want to. But the Wi-Fi density part of the equation needs some more work.
The use of wireless cable modem gateways will help with in-home Wi-Fi coverage, but there are lots and lots of gaps they'll need to fill in outside of the home. The brief slideshow below offers a snapshot of U.S. cable's current outdoor Wi-Fi footprint (Cox has a
list of locations
in California where it's piloting Wi-Fi).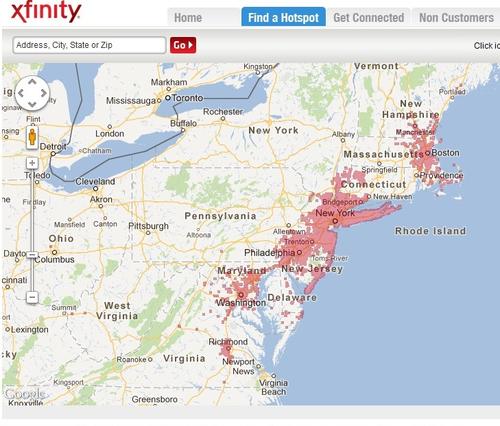 — Jeff Baumgartner, Site Editor,
Light Reading Cable
PARTNER PERSPECTIVES
- content from our sponsors