As wireless carriers get serious about deploying Ethernet backhaul, equipment vendors will be honing their technological arguments to try to prove their gear does the job.

The result could be a long debate, because, while nearly every Ethernet vendor says it does wireless backhaul, some are saying the job is harder than it looks.

At next week's Ethernet Expo 2007, to be held in New York City, wireless backhaul promises to be one of those topics you can't escape from. Two of the panel sessions, one each on Monday and Tuesday, will specifically discuss backhaul, and the topic is likely to emerge as vendors discuss areas such as Ethernet access gear. (See Access Heats Up for Ethernet and An Ethernet Expo Rundown.)

The general theme behind backhaul is this: Bandwidth demand could shoot upwards as mobile data services come into play, overwhelming the leased T1s and E1s currently used for backhauling voice.

Equipment vendors are hoping this pushes mobile providers to consider Ethernet for backhaul. "It's really compelling from a short-term perspective to keep adding T1s or E1s, but you can never add enough to fix the data problem," says Craig Easley, vice president of marketing for Actelis Networks Inc.

The catch is that the Ethernet argument will fall flat if mobile bandwidth demand doesn't surge for some reason. In other words, Ethernet becomes a winner only if cell sites need a lot of T1/E1s. "Most mobile and wireline carriers report that the business case becomes valid at around the third or fourth T1/E1," Heavy Reading analyst Patrick Donegan wrote in a May report, "Ethernet Backhaul: Mobile Operator Strategies & Market Opportunities."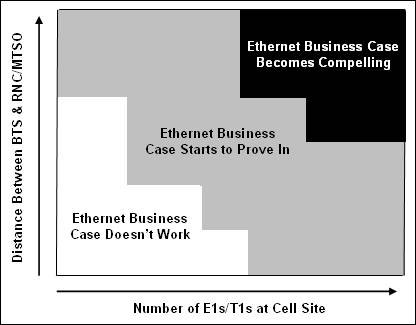 The other factor noted in the chart above is the distance between the base transceiver station (BTS) and radio network controller (RNC), since T1/E1s often are leased by the mile.

Once a carrier decides to go with Ethernet backhaul, any old Ethernet box won't do. Vendors chasing this market in the coming months will have to answer to several technological points.


Timing: T1s and E1s carry a clock signal that Ethernet lacks. Without it, performance of voice and video traffic could suffer. Plenty of standards are being kicked around here, and companies like Brilliant Telecommunications Inc. and Symmetricom Inc. (Nasdaq: SYMM) are chipping in with timing products. (See Luminous Crew Gets Brilliant.)

Some proposed answers are based on using a GPS clock, but that's a $50,000 expense, Easley says. Others rely on standards -- Institute of Electrical and Electronics Engineers Inc. (IEEE) 1588v2 or International Telecommunication Union (ITU) G.8261. No option has emerged as an obvious winner, although 1588v2 seems to be a favorite.


Reliability: As with carrier Ethernet services, wireless backhaul has to be as sturdy as a T1. Ethernet demarcation boxes, already a hot topic in carrier Ethernet, are going to be key here, says Brian McCann, chief marketing and strategy officer for ADVA Optical Networking .

That's because cell sites are so spread out. Operators will want ways of pinpointing the location of a line break, for instance, without sending trucks all over the place. They'll also want a means of monitoring network performance to compare it to service level agreements, McCann says.


The outdoors: In many cases, McCann notes, cell sites will require temperature-hardened gear that can survive a long, lonely life inside a telecom hut.


800-pound gorillas: As with any Ethernet market, Cisco Systems Inc. (Nasdaq: CSCO) could cause trouble for smaller companies. A Cisco offering "may be more expensive and more complicated, but it's comfortable," McCann says.

It's worth noting Alcatel-Lucent (NYSE: ALU) wants a stake in this market, too. And even without those two giants, startups in this space would have to contend with offerings from Adtran Inc. (Nasdaq: ADTN) and Tellabs Inc. (Nasdaq: TLAB; Frankfurt: BTLA). (See AlcaLu Targets Wireless Backhaul and Tellabs Snares Euro Backhaul Deal.)

— Craig Matsumoto, Senior Editor, Light Reading


---
Interested in learning more on this topic? Then come to Ethernet Expo 2007, a conference and exhibition that will explore major carrier Ethernet networking and service trends. To be staged in New York City, October 15-17, admission is free for attendees meeting our prequalification criteria. For more information, or to register, click here.


---