A Guide to India's Telecom Market
The Telecom Regulatory Authority of India (TRAI) has divided the market into 22 service areas known as "circles." The circles are divided roughly in line with the country's 29 provinces and are divided into four categories, as shown below. Service providers require a separate license for each circle.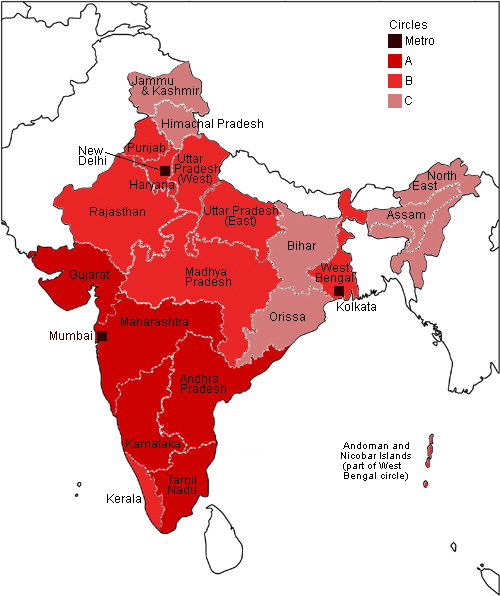 Metro
circles (major cities*):
A
circles (regions that include other large cities):
Andhra Pradesh
Gujarat
Karnataka
Maharashtra
Tamil Nadu*
B
circles (regions with smaller urban areas and towns):
Haryana
Kerala
Madhya Pradesh
Punjab
Rajasthan
Uttar Pradesh (East)
Uttar Pradesh (West)
West Bengal
C
circles (rural areas):
Assam
Bihar
Himachal Pradesh
Jammu & Kashmir
Northeast
Orissa
* Chennai, in the southeast, was previously a separate
Metro
circle, but as of March 31, 2008, it was integrated into the Tamil Nadu
A
circle as a single entity. The service providers and TRAI, however, continue to report monthly connection numbers for Chennai separately.
Next Page:
Licenses
PARTNER PERSPECTIVES
- content from our sponsors