Three UK has just launched a major 5G-led assault on the living room. If all goes to plan, the smallest of the country's four mobile network operators will emerge with a thriving broadband business, powered by the high-speed mobile technology. And it will come at the expense of BT and other companies using conventional fixed lines to support broadband connections.
But it's a risky move. Three is building its 5G radio network with Huawei, a controversial equipment vendor whose Chinese heritage makes it a threat to national security, according to its critics. Now preparing for a no-deal Brexit, Boris Johnson's new Conservative government is under US pressure to ban Huawei from the UK's 5G market. If it does, Three would have to start again.
That's a risk CEO Dave Dyson is prepared to take. "We are certainly not ignoring it, but I don't want to wake up in 12 months' time and regret a decision to slow things down on the basis there might be a decision one way or another," he tells Light Reading. "For us it's full steam ahead, and there is a brilliant opportunity on 5G to give customers what they want."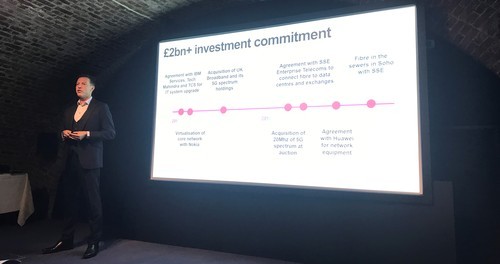 The opportunity, as Dyson sees it, lies in offering UK households a low-cost, hassle-free broadband service that does not require a fixed line. Most UK broadband customers are forced to pay line-rental fees even if they don't have a landline phone. With Three's service, these charges disappear.
The absence of full-fiber connections, currently available to just 8% of homes, should mean 5G also measures up better than it would elsewhere, especially given Three's spectrum hoard. After buying a spectrum-rich business called UK Broadband in 2017, Three claims to have twice as much 5G spectrum as any other UK operator. "Customers should expect to get a speed that is twice as fast as any other operator can offer," boasts Dyson. One early customer speed testing the service recorded 450 Mbit/s, he says. That is way more than advertised speeds on BT's part-fiber network.
A Huawei ban could torpedo these plans while rivals work on bringing full-fiber connections to UK homes. Unlike the UK's other mobile operators, which have divided 5G radio contracts between Huawei and other suppliers, Three is using only the Chinese vendor. In the next three years, it aims to install Huawei's 5G equipment at 6,000 of its 16,000 UK mobile sites. If Johnson's government decides to exclude Huawei, Three might have to rip out equipment and find a new supplier.
Yet Dyson rejects any suggestion his company is in a more precarious spot than other mobile operators. In the intelligent "core" of its network, it deliberately avoided using a Chinese vendor, he says, picking Finland's Nokia instead. That puts Three in a better position than BT, which is now trying to remove Huawei from the core network systems it acquired with its EE takeover in 2016. "Changing that core network provider is a fairly significant bit of surgery and I wouldn't want to be in their position," he says.
His view that a 5G delay would be costly is also backed by analysts covering the sector. "The ability for Three to deploy 5G as planned depends on resolving the ongoing uncertainty around Huawei in the supply chain. Yet operators can't stand still," said Matthew Howett, the founder and principal analyst at Assembly, in emailed comments. "We estimate that any significant delay to the rollout of 5G could cost the UK economy between £4.5 billion [$5.4 billion] and £6.8 billion [$8.2 billion]."
---
Want to know more about 5G? Check out our dedicated 5G content channel here on
Light Reading.
---
Nevertheless, Three's tardy arrival at the 5G mobile party puts it under additional pressure to succeed in broadband. While BT and Vodafone launched 5G mobile services in May and July respectively, Three does not expect to join them until the fourth quarter. "Right now, there are not enough sites in our network to have a credible mobile launch," says Dyson. "By the end of the year we'll have 25 cities and towns but there are still a few things that need to come together in terms of planning consent, landlord consent and making sure the right transmission is in place." Three is also still in the process of rolling out its new core network. Until that is up and running, it cannot offer full mobility services, says Dyson.
On the plus side, Three does not require separate networks to operate its mobile and broadband services. The 6,000 sites it has identified for a 5G makeover in the next three years account for 80% of its traffic and will require a mobile capacity boost. But the deployment gives Three "a lot of capacity headroom" because of its spectrum resources, says Dyson. "That is what we are using for broadband, and so it is really mobile-led but with an opportunity from broadband," he explains.
Outside these areas, Three is still weighing how to approach its remaining 10,000 sites. In the meantime, its 5G-powered broadband service may have to quickly demonstrate that it can challenge fixed-line rivals in households hooked on bandwidth-gobbling applications like Netflix and Amazon Prime. "I would like to see people talk about 5G in a more positive sense around home broadband solutions and that is up to us to prove over the next few months," says Dyson.
Unsurprisingly, he has mixed feelings about a new government plan to bring full-fiber connections to all properties by 2025. On the one hand, more fiber availability will provide essential "backhaul" connections for Three's 5G network. On the other, there is a danger of overlooking the contribution mobile could make. "It seems like there is only one focus and that focus is that fiber is the only solution," says Dyson. "Most people won't need fiber in the next couple of years and you can roll out mobile faster and much more economically."
Thankfully, broadband regulation now appears to be moving in the right direction. Dyson welcomes moves by Ofcom, the UK regulatory authority, to make BT's ducts and poles available for backhaul purposes. Growing competition is a further boon, with several companies now investing in fiber networks. Three counts Virgin Media and Colt as important backhaul suppliers and is working with SSE Enterprise Telecoms to "unbundle" BT's exchanges and put in fiber links. Sixty-seven of 170 targeted exchanges have now been unbundled, and the remainder will be done "quite quickly," says Dyson.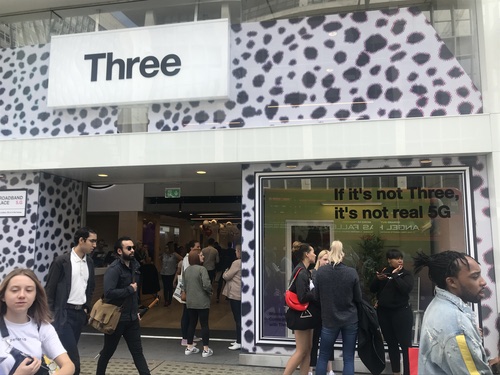 For years, Three has languished as a subscale mobile operator. Its customer base has grown to 11.6 million subscribers from 10.8 million at the end of 2015. But it remains much smaller than Vodafone, its nearest competitor, which finished June with about 17.3 million customers. And its financial performance has recently been lackluster: Sales fell 2% for the first half, to £1.17 billion ($1.4 billion), and earnings (before interest, tax, depreciation and amortization) were down 8%, to about £334 million ($404 million), compared with the year-earlier period.
With the onset of 5G, Dyson now eyes a doubling in the size of Three's business, driven by opportunities outside mobile. "In that market we can take more market share but it is extremely competitive and so we need to look further afield," he says. As he looks to realize those ambitions, home broadband will be his first big test.
Related posts:
— Iain Morris, International Editor, Light Reading