The World of Disney: StudioLAB Innovation, Cisco Collaboration & 5G Anticipation
It's still true that content is king. But reaching consumers is the power behind the throne.
Light Reading's recent tour of the StudioLAB at Walt Disney Studios shows that Disney is betting that the future of its media business relies on reaching consumers directly, even if it doesn't own the movie theater, cable company or 5G network that delivers the content. (See Behind the Scenes at Disney's StudioLAB .)
While such companies as AT&T and Comcast have become massive conglomerates that own content assets, advertising platforms and the networks that become the means of distribution, Disney's most recent bets have been on premium content and content franchises, in addition to other means of reaching consumers directly.
Disney's $71.3 billion purchase of 21st Century Fox includes a controlling stake in Hulu. Walt Disney Co. (NYSE: DIS) is about to launch its own direct-to-consumer streaming service and the company is also an investor in a yet-unnamed Jeffrey Katzenberg company that is aiming to bring episodic entertainment to mobile devices. (See WndrCo Raises $1B for 'NewTV'.)
As it becomes more directly competitive with telecom and cable empires, Disney is leaning on technology partners, including Cisco Systems Inc. (Nasdaq: CSCO), HPE and Accenture to help bring the latest IT, AI and networking technology to its studio system. That's where its StudioLAB is helping all of the Disney-owned content studios solve technical production problems and reach consumers in novel ways. (See Walt Disney Studios Selects Cisco as Innovation Partner.)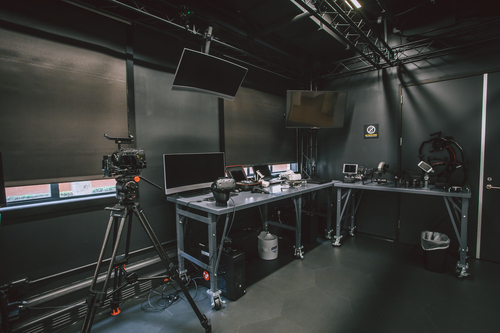 To call out one example, Cisco, which invited Light Reading to see the StudioLAB, is helping Disney's studio and production teams to collaborate and share ideas quickly and over long distances. We saw Cisco Webex Boards in use in the StudioLAB and on location where, in a production environment, directors and producers could quickly check in with other groups of team members on assignments, locations and budgets.
A larger version of the Webex Board was used inside the StudioLAB collaboration room, where the system recognized and labeled studio team members on a high-res display, automatically adjusting a microphone array to better pick up the person speaking. Story boards and other sensitive drawings weren't left on desks or on meeting room whiteboards overnight; they're securely stored in the cloud.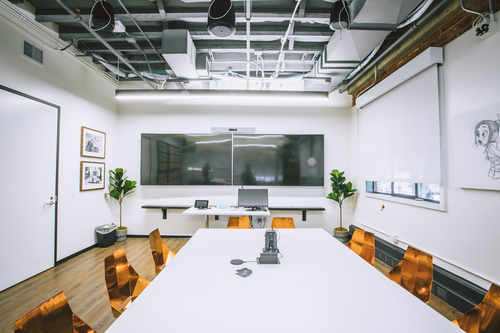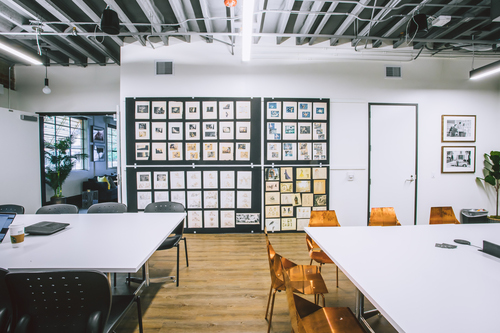 Our video report above hints at a few other ways that Disney is looking to reach consumers. Disney is experimenting with using movie posters, special events, retail stores, theater lobbies and public spaces to be part of new mixed reality environments. They'd use combinations of 360-degree video, AI, augmented reality and virtual reality to allow people to interact with the characters and worlds that are part of the various Disney-owned franchises. "We think that it's really exciting to consider how we might be able to not only get into a character's world, but also to have our characters manifest themselves in our world," said Ben Havey, VP, Technology Innovation Group, The Walt Disney Studios.
Disney has tried this before and it hasn't been shy about investing heavily in technology-fueled experiences. Just a couple of years ago, the company shut down the development of its Disney Infinity, a set of games and services that used collectible action figures inside interactive video games and apps. Analysts said that the ideas for "toy-to-life" products stagnated pretty quickly; It was mania, not a market. StudioLAB, with experimentation as part of its mission, could help Disney make fewer missteps along the way, or reuse technologies in other storytelling venues.
It's hard to understate the opportunity that 5G networks presents to content producers and creative collaborators. We're used to discussing this from a network side, but the content world is just as excited. Delivering a "game-engine quality" experience to consumers is one thing, said Havey, but interactivity ups the ante considerably. "The participatory aspect of this future vision that we have means that people are in the [content] world, and they're talking to other people in there, and they're communicating in real time," Havey said. "And the low latency nature of 5G will really help. Or, even a step further, you know, with a 5G-connected camera we could potentially shoot right to the cloud."
The advent of 5G networks is going to send the competitive jostling between Disney, Netflix, AT&T Inc. (NYSE: T), Comcast Corp. (Nasdaq: CMCSA, CMCSK) and many, many others into overdrive with faster connections, lower latency and new devices that have more processing power and better screens than ever before. That theme was ever-present during our visit, with studio and technology types both looking forward to a new kind of mobile experience.
Combine a new, fast mobile network and a direct-to-consumer streaming service, and suddenly the cost and risk of producing content go way down. Though eager to promote blockbusters, the StudioLAB team said it is looking ahead to new networks and new consumer devices as vehicles for producing entertainment that doesn't require massive red carpet premieres and year-long ad campaigns. "We're great at making $100 million blockbusters, but the cool thing that a streaming service presents to us is the opportunity to explore other, perhaps more modest ideas and stories and maybe use new tools and bring in new talent to make that happen," said Havey.
— Phil Harvey, US News Editor, Light Reading
Like what we have to say? Click here to sign up to our daily newsletter
One of America's most loved telecoms get-togethers, The BIG 5G Event, will be returning to Austin in 2023 to host 1,500+ telecom, cloud and technology professionals — and we want you to be a part of it!
For three days, you can meet and network with leaders from every part of the North American 5G ecosystem and hear from over 150 speakers on the hottest industry topics. To apply for your complimentary pass to the event, visit this link.