Poll: NFV/SDN, 5G & IoT to Dominate MWC
BARCELONA -- Mobile World Congress -- SDN and NFV, followed closely by the Internet of Things and 5G, are slated to be the biggest topics of discussion when the doors to the Fira officially open tomorrow for Mobile World Congress (although seasoned veterans know the show actually starts today, Sunday).
Nine hundred of you voted in our poll, asking, "What will be the hottest topic at Mobile World Congress 2015?" which is just 1% of the number of people who attend MWC, but is still a good sample size to get a feel for the show's biggest trends. SDN and NFV were the top choice, garnering 19% of the vote, followed by 5G at 16% and the IoT at 15%. (See MWC: Let the Madness Begin.)
Although not capturing as much buzz, VoLTE (9%), LTE-Unlicensed (8%), small cells (8%), network security (7%), analytics (5%) and C-RAN (3%) all got some votes as well. And, as is true with any trade show, some people are just in it for the food. Nearly 10% of respondents selected tapas as the hottest topic at the show, or maybe just in the city. (See Hola, MWC#15.)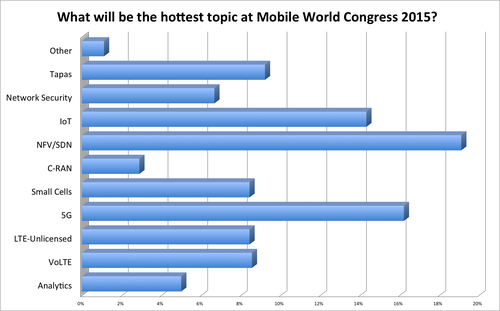 ---
For all the coverage from MWC, visit our dedicated show site here on Light Reading.
---
Light Reading's team of ace reporters will find out if our readers' predictions come true this week and will report back on the progress made around SDN and NFV, if IoT demos trump those of the Consumer Electronics show, if any consensus is reached amongst the hype around 5G (expect some 4.5G and pre-5G in there too) and more. (See Is DT About to Blow Our SDN Socks Off?, CES Pics: Get Another Bite of the Gadget Cherry!, Huawei Promises 4.5G & LTE-M in 2016 and ZTE's Pre5G Offers a Path Across FDD Divide.)
In the meantime, feel free to spend the next few hours reading up on a few of the stories that have already come out of MWC in the week leading up to it, and be sure to check back here for the news, sites, sounds and smells from the show floor.
Related posts

— Sarah Thomas,

, Editorial Operations Director, Light Reading
Like what we have to say? Click here to sign up to our daily newsletter
One of America's most loved telecoms get-togethers, The BIG 5G Event, will be returning to Austin in 2023 to host 1,500+ telecom, cloud and technology professionals — and we want you to be a part of it!
For three days, you can meet and network with leaders from every part of the North American 5G ecosystem and hear from over 150 speakers on the hottest industry topics. To apply for your complimentary pass to the event, visit this link.