Piecing Together the 5G Big Picture

9/10/2018

Comment (3)

To enhanced Mobile Broadband (eMBB) and beyond!
The 5G noise has been building to an almost deafening crescendo for several years and we're about to hit the first phase of significant service launches in major markets.
The first year (or even first few years) will be a public relations battle, but the early action will largely revolve around the delivery of enhanced Mobile Broadband (eMBB), which in itself will be a step forward and, in fixed wireless scenarios, likely to shake up the broadband services market in general. In time it will also enable emerging services such as augmented and virtual reality (AR/VR) and 8K video to mobile devices -- and that will be a significant challenge in itself.
Such services require, at the very minimum, network upgrades in the radio access network (RAN) and supporting "anyhaul" (fronthaul and backhaul) packet and optical transport networks that carry video and data traffic to and from end-user devices. These launches do not require a full 5G Big Picture deployment.
But enhanced Mobile Broadband is just one of the now familiar three points of the 5G services triangle, a version of which you can see below.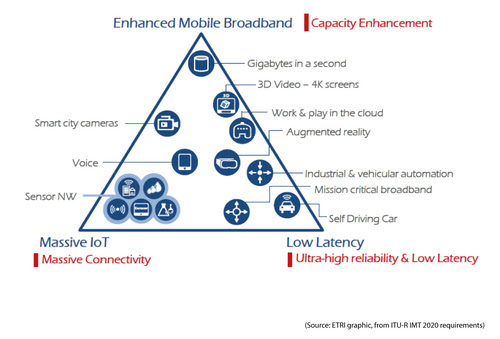 Moving anticlockwise from eMBB we have the massive Machine Type Communications (mMTC) that will be enabled by an extensive Internet of Things (IoT). All those billions of devices -- 20 billion by 2023, according to a forecast from Ericsson -- will need to be managed and while some of them will require very little in the way of data traffic flows, either to or from, some will put strain on networks, especially once high-resolution streaming video surveillance cameras become the norm in smart cities. These mMTC applications will require a significant number, but not the full suite, of elements.
But the major challenges come down the line when autonomous vehicles are let loose on the roads, and when the range of services dubbed Ultra Reliable Low Latency Communications (URLLC) -- aka "Critical Communications" -- including industrial robot automation and remote surgery are launched: That's when all the puzzle pieces need to be in place.
So let's take a look at the 5G Big Picture piece by piece...
Next page: Piecing 5G together.

(3) |