It is nearly that time of year when telecom executives are released from their normal enclosures and sent to frolic with other creatures of the wireless world in Barcelona. Organizers of the Mobile World Congress, which this year opens its doors on February 25 (ignoring the weekend preamble), expect to herd roughly 107,000 attendees into the hangar-like halls on the edge of the Catalan capital. The event provides great business for Barcelona's bars, eateries and hotels, and is a money-printing machine for the GSM Association, its owner. But as MWC gets ready to celebrate its fourteenth year in Barcelona, it looks as disconnected from reality as an Instagram-addicted adolescent.
MWC's biggest problem is its failure to reconcile the changing dynamics of the global industry with the messages that come out of the show. Most of the chatter at this year's event will concern 5G, a next-generation network technology that raises important questions about the future role of the telecom operator. But there will be little at MWC about the existential challenges 5G brings. Amid the fold-out phones and virtual reality displays, instead expect a surplus of backslapping and self-congratulation about the first launches of commercial 5G services.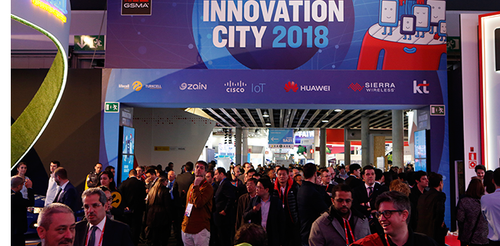 Not transformative 5G services, mind you, but 5G as a residential broadband or faster mobile connection. That 5G would initially appear in this guise is perhaps no surprise. But there is hope it will subsequently go far beyond the smartphone and the connected home, linking machines of all kinds to high-speed data networks. Trouble is, the industry forgot to ask other sectors about 5G and how it might get used. As 5G marketeers trot out the hackneyed examples of the self-driving car and the robotic surgeon, senior operator executives are seriously worried by the dearth of viable new services. The echo chamber of MWC, where operators munch tapas opposite other operators, seems the wrong place to find answers. (See 5G Stuck in Slow Lane Beyond Consumer Biz.)
There is no firm deadline, of course, and the 5G technology that will best support non-consumer applications is not even ready. A more pressing concern is whether operators will have anything but a last-mile connectivity role to play. After all, technology giants and Internet companies were bigger beneficiaries of the smartphone boom. Amazon.com Inc. (Nasdaq: AMZN) is already offering network services based on the public cloud to business customers. "The further toward the edge Amazon goes, the less work there is for telcos," said Gabriel Brown, a Heavy Reading principal analyst, in a comment on Light Reading's website in late 2018. That is a scary thought for operators, he added. But as operators crank up the 5G marketing, it risks being overlooked at MWC. (See AWS Debuts Networking Services – Should Telcos Be Scared?)
---
You're invited to attend Light Reading's Big 5G Event! Formerly the Big Communications Event and 5G North America, Big 5G is where telecom's brightest minds deliver the critical insight needed to piece together the 5G puzzle. We'll see you May 6-8 in Denver -- communications service providers get in free!
---
Another scary thought set to receive little MWC attention is the impact 5G and digital investment will have on the telecom workforce. Major service providers tracked by Light Reading have already "downsized" dramatically in the last two years. AT&T Inc. (NYSE: T) and Verizon Communications Inc. (NYSE: VZ), the two biggest operators in the US, cut 22,680 jobs last year, more than one in 20 of the total number. Customer service departments were especially hard hit, judging by newspaper reports, as jobs moved overseas or were replaced by artificially intelligent "chatbots." As 5G and other networks take advantage of artificial intelligence, the axe will fall on network operations staff, too. Finnish mobile operator Elisa Corp. already has a "zero person" network operations center. Thanks to forthcoming technologies, operators will feasibly be able to cut nine in ten network jobs in the next few years, China's Huawei Technologies Co. Ltd. told Light Reading in early 2018. (See The Zero-Person Network Operations Center Is Here (in Finland), Huawei Can Help Cut 90% of Networks Operations Jobs, Says Senior Exec and AT&T, Time Warner Shed 11K Workers in First 9 Months of 2018.)
MWC would rather not dwell on such unpleasantries while paying, at-risk executives are quaffing cava and dreaming of 5G riches. Yes, AI and automation will be talking points, but only as ways to cope with a surge in 5G data traffic and "free up" staff for other activities. Back in their real-world enclosures, meanwhile, major operators including BT Group plc (NYSE: BT; London: BTA) (the UK), Deutsche Telekom AG (NYSE: DT) (Germany), Orange (NYSE: FTE) (France), Telecom Italia (TIM) and Telenor Group (Nasdaq: TELN) (Norway) have all made the connection between digitalization and staff cuts. That acknowledgment is a concern for MWC organizers as they contemplate a recent flatlining in attendee numbers. (See MWC Visitor Numbers Fall: So Has It Hit Its Peak? and How Long Before We Hit Peak MWC?)
Geopolitically, the big 5G topic of 2019 (so far) is obviously Huawei. If 5G technology really can be used to connect everything from insulin drips to mission-critical industrial systems, governments and their spooks are not sure they want a Chinese company linked to an anti-Western Chinese government in their networks. For European service providers that have cozied up to Huawei, any enforced separation could prove time-consuming and costly, potentially delaying 5G's launch in a region already seen as a laggard. Show organizers this year do not seem entirely comfortable with Huawei's muscular MWC presence. The GSMA will reportedly hold talks on the "sidelines" of MWC about the implications of a European ban on Huawei. In the meantime, one operator set to meet with Light Reading said it did not want to discuss vendors. (See Huawei Controversy Pits Spooks Against CSPs.)
None of this will stop people from traveling to Barcelona in late February. In meeting rooms, on crowded exhibition floors and at late-night cafes and bars, important deals will be done as executives fret about the state of the industry. Indeed, it was agreements at the 2017 show that partly enabled the industry to accelerate the development of the 5G standard. In such respects, MWC serves a stronger purpose than just about any other telecom event on the planet. But it is a distorting window on the telecom industry for the wider world, and a public forum for discussion that seems unwilling to confront the biggest issues. (See 3GPP Likely to Fast Track 5G NR Specs This Week.)
— Iain Morris, International Editor, Light Reading