Meet the Force Behind Ericsson's 5G
Ericsson's Sara Mazur is pretty sure she has the coolest job in the entire world -- or at least certainly in Sweden.
Mazur is the head of Ericsson Research, where she manages a team of 650 researchers across the globe, all dedicated to innovation and developing the technologies that are still five to seven years out.
That means most of her time for the past few years has been spent on -- you guessed it -- 5G. Mazur, who was recently named "the most powerful woman in digital" by Swedish business magazine Veckans Affärer, has a PhD in electrical engineering and was an Associate Professor in fusion plasma physics. She owns 69 patents and literally wrote the book on adaptive antennas, so it's safe to say her interest in 5G is not to contribute to the hype, but to make it deliver from a practical and technological perspective. (See Russia's MTS Knocks 5G as 'Vendor Game' and 5G: Hurdles on the Track.)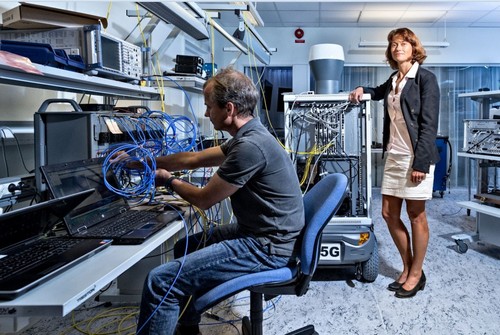 At Ericsson AB (Nasdaq: ERIC), Mazur says she focuses on 5G in the broad sense -- not just inside the radio access network, but the entire network and new services it enables. Right now, her team is pursuing four initiatives -- standardization, realization through SDN and network slicing, the Internet of Things and industry services. (See Ericsson Launches 5G for Europe Program and Ericsson Opens 5G 'Garage' in Hungary.)
For the latter three categories, Ericsson -- like the rest of the industry -- is driving the technology forward ahead of standardization, which tends to be slower moving. Ericsson, for example, showed off a demo of its network slicing capabilities at last month's Mobile World Congress, and Mazur says it's available on a 5G-ready core today. (See SK Telecom, Ericsson Team Up on 5G Network Slicing and Ericsson's Network Slicing: It's Far Out, Man.)
"With 5G we can in the same physical network build virtual networks with multiple software-defined networks for each industry," she explains. "Each is called a network slice. For any industry, we can connect devices with cloud services for the industry through the network providing effective performance and the best service the industry needs and realizing multiple sub-slices within the same physical network. They would each have the perception of their own network and not disturb each other."
---
For more profiles of tech's female leaders, visit Women in Comms here on Light Reading.
---
Ericsson has signed more than 20 5G memorandums of understanding (MOUs) with operators across the globe and currently has 15 pilots under way in industries including automotive, manufacturing, processing, agriculture and utilities. While Mazur doesn't expect a transatlantic 5G network to be ready until 2020, she is confident there will be launches of "early drop trial systems for 5G" as soon as 2017, as some of Ericsson's US customers have promised. (See Ericsson Has Inked Nearly 20 5G Test Agreements, Ericsson, Telefónica Collaborate on 5G R&D, T-Mobile to Test 5G With Nokia, Ericsson and Verizon CEO: US Commercial 5G Starts in 2017.)
"We are realizing it now; it's turning into reality," Mazur says of 5G. "We are heavily driving standards, pushing industry pilots and working with trial systems. This will happen."
Mazur would know. Did we mention she was also the driving force behind 2G, 3G, 4G, cloud and SDN in her more than 20 years at Ericsson? It's easy to see why she has the best job in the world when you consider she's building the very technologies that keep the world connected. (See Ericsson Appoints New Research Head.)
"I really enjoy working with new technology, especially technology that people use," Mazur says. "I work with new technologies that are for the use of everyone and in the future of society. I also like working with people and strategies. I can use those three areas a lot in my job. I have the best job in Sweden; maybe in the world."
— Sarah Thomas,

, Director, Women in Comms
Like what we have to say? Click here to sign up to our daily newsletter
One of America's most loved telecoms get-togethers, The BIG 5G Event, will be returning to Austin in 2023 to host 1,500+ telecom, cloud and technology professionals — and we want you to be a part of it!
For three days, you can meet and network with leaders from every part of the North American 5G ecosystem and hear from over 150 speakers on the hottest industry topics. To apply for your complimentary pass to the event, visit this link.
PARTNER PERSPECTIVES
- content from our sponsors