Could backhaul be the bottleneck that holds back the advance of 5G networks? Readers certainly seem to think that's a possibility.
In the latest poll on Light Reading's 5G site, we asked what the biggest obstacle to 5G is likely to be. All told, 174 people voted, 33.91% of them alighting on backhauling a super-fast wireless network as the most likely reason for 5G delays and obstacles.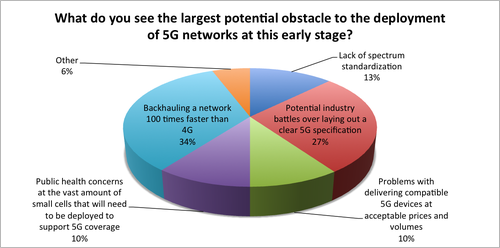 This is entirely reasonable: Backhaul is the fiber, copper or microwave radio that connects the radio access network (RAN) to the Internet proper. The use of 5G calls for the deployment of short-range mmWave small cells in a manner never seen before, potentially using millions of radios. Even Siezo Onoe, CTO of NTT DoCoMo Inc. (NYSE: DCM) in Japan (a country swimming in dark fiber), has said there won't be enough for 5G. (See DoCoMo's 2020 Vision for 5G.)
---
For all the latest news on 5G, visit the 5G site here on Light Reading.
---
The other big concern among poll-takers is the possibility of a battle over the 5G specification itself. Some 27.59% of respondents expressed concern about potential industry battles over laying out a clear 5G specification. (See Verizon Issues First 5G Radio Spec.)
Readers appear much less concerned about the issues of 5G spectrum harmonization, device availability and public health concerns.
— Dan Jones, Mobile Editor, Light Reading