A budget-busting bill
T-Mobile will not be rolling out a 28GHz-based network, of course, but one that uses an assortment of spectrum bands and relies heavily on its 600MHz estate. Because these sub-GHz frequencies provide better coverage than the high spectrum bands, they should support a more economical deployment of 5G.

But the final bill for a nationwide deployment is still bound to be large. The "active antennas" that form an integral part of 5G are as costly as base stations, says Nordström, and those are just the starting point. "If you build something with five or ten times the capacity on the radio side, you need corresponding capacity for the backhaul," he says.

Höttges had also hinted at the cost challenge the industry faces during his MWC presentation. "It is not just about putting new antennas on rooftops but lots of additional investments," he said.

So what kind of figure might T-Mobile be looking at? Daryl Schoolar, an analyst with the Ovum Ltd. market-research company, reckons the cost of building a nationwide 600MHz-based 5G network will be comparable to what AT&T or Verizon Communications Inc. (NYSE: VZ) spent on 700MHz-based 4G infrastructure. "My estimate is that AT&T spent less than $30 billion on 700MHz coverage -- maybe in the mid-$20 billion range," he says.

One caveat, notes Schoolar, is that T-Mobile may not have to spend quite as much on backhaul as AT&T did during its 4G rollout. "AT&T was going from a W-CDMA [3G] network with single-digit Mbit/s capacity to 70-100Mbit/s capacity base stations," he says. "This won't be entirely the case for T-Mobile -- it may have some backhaul in places where it collocates its 600MHz base stations with its existing LTE base stations."

Echoing Heavy Reading's Brown, Schoolar also points out that T-Mobile's 5G network will not be entirely "ground up," relying heavily on software upgrades to 4G infrastructure.
---
Want to know more about 5G? Check out our dedicated 5G content channel here on
Light Reading.
---
But even if the cost works out to be around the $20 billion mark, that would be about four times what T-Mobile plans to invest in total capital expenditure this year. At most, the 5G spending will be spread over a two-year period, with T-Mobile indicating it will start rollout in 2019 and achieve "nationwide" coverage in 2020.
Astronomical as this capex increase sounds, it might not much bother investors if 5G triggers a big surge in customer spending. But experience suggests this will not happen. While T-Mobile's own sales have soared on subscriber growth, its average revenues per user (ARPU) have fallen significantly.
Five years ago, before a high-quality 4G network was widely available to its users, T-Mobile's contract customers were generating monthly ARPU of $58. Today, that figure is just $47.53 (although T-Mobile no longer subsidizes devices in the traditional way, and claims that average "billings" per user, including handset fees, were $61.89 in the recent quarter).
Moreover, while overall revenues have continued to climb -- rising 16% in 2016, to about $37 billion -- T-Mobile may be hard-pressed to maintain its momentum on customer growth. Even if it does, 5G spending will probably lead to a big increase in capital intensity (or capex as a percentage of revenues).
"It's a very aggressive plan and, while I wouldn't rule it out technically, it will require a swap-out that will have a huge impact on the capex budget," says Nordström in assessing Legere's 5G scheme. "T-Mobile will get punished by the analyst and investment community if they spend that money."
Early concern about the cost implications of the 5G plan wiped 2% off the value of T-Mobile's share price on the Nasdaq on May 2 -- the day of the 5G announcement -- and the stock was down about 0.9% today, at $66.33, at the time of publication.
As far as Northstream is concerned, a far likelier scenario for 5G deployments is that operators upgrade 10% to 15% of their networks each year, meaning the full transition to 5G takes at least seven years.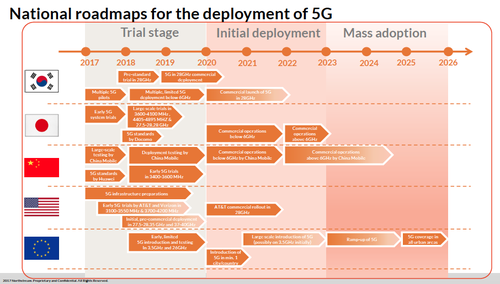 Even so, Neville Ray, T-Mobile's chief technology officer, sounds "pretty confident" about the plan, according to Ovum's Schoolar. And Legere's 5G ambition is understandable from a strategic perspective, reckons Nordström. "He wants to eliminate the traditional technology leadership position that Verizon and AT&T have," he says. "So when customers look at T-Mobile in future it will not just be about low prices and huge data plans."
T-Mobile has certainly confounded the industry before. If it can build a nationwide 5G network in the next three-and-a-half years, it will have pulled off its most remarkable feat of all.
— Iain Morris,

, News Editor, Light Reading