When Orange outlined its 5G test plans earlier this week during a major media and analyst presentation in Paris ahead of the upcoming Mobile World Congress, two things stood out: the specific nature of the tests, which included fixed wireless access, autonomous car connectivity; and the absence of Huawei from the list of vendor partners involved. (See Huawei Frozen Out of Orange's 5G Paris Party.)
Huawei's absence was even more noticeable as its main rivals in the 5G radio access network market -- Ericsson and Nokia -- are playing a significant role in the Orange tests, while Samsung and Cisco were also name-checked.
So was Huawei disappointed not to get a piece of the action and be associated with the early 5G plans of one of the world's major mobile network operators?
That's the question Light Reading put to Ryan Ding, president of Huawei's carrier business group, during the vendor's own pre-MWC media and analyst event. Ding was one of a number of Huawei executives to provide updates on the company's wireless strategy and MWC plans before taking questions.
Ding, not surprisingly, did not comment either way on whether Huawei's absence from Orange's initial 5G tests was a disappointment or not. But he stressed that Huawei was very involved with Orange on its mobile plans, including 5G, and that the level of engagement between the two companies would be made clear during Mobile World Congress, though he couldn't share details.
He added, repeatedly, that Huawei is the only company with a full end-to-end 5G offering (though it seems all major companies make such claims continuously about the markets they're in), though whether that is an indication of something coming down the line with Orange or not is unclear.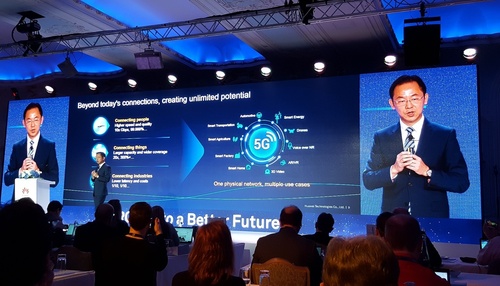 Huawei's absence from Orange's announcements, as we noted earlier this week, does not necessarily point to a lack of 5G smarts or capabilities, but it does raise questions that Huawei would rather not be asked -- for instance, are there some commercial sticking points between the companies? Are there interoperability or software issues? Or did the other vendors just have more applicable technology for these particular tests?
Maybe an Orange appearance in the Huawei "village" at MWC will bring some clarity.
— Ray Le Maistre, Editor-in-Chief, Light Reading