Huawei is continuing to fight back against its international critics and allegations that it is a security risk by sharing details of planned security testing facilities in Europe.
And it's been given a public relations boost by one of its customers, South Korean operator LG U+ , whose CEO has spoken out on the security of the operator's 5G network, which includes equipment from multiple vendors, including Huawei, reports Korea's JoongAng Daily.
The details about the security testing facilities came during the media briefing given by the vendor's rotating CEO Ken Hu earlier this week, during which he also claimed that Huawei Technologies Co. Ltd is more than a year ahead of its rivals in terms of 5G development. (See Huawei's Hu Hits Back for the main highlights.)
Huawei has now shared a transcript of the briefing, including the following key excerpts from Hu's answers to questions from the media:
Hu on security: Ten years ago we set up an independent cyber security evaluation center in the UK. As a result of that, we have put in place a long-term and effective collaboration model with the stakeholders in the UK. We're going to continue to work on that moving forward. We also have a similar arrangement in Canada. Those are the efforts we will continue to work on and strengthen.

At the same time, we are and will continue to expand similar engagement with the governments. Last month, I myself was in Bonn, participating in an opening ceremony of a security innovation lab there. This lab is essentially an open platform allowing the German government and also our customers in Germany to conduct testing of Huawei's products around security. Such efforts have won the recognition of the German government.

The next step is to launch our security transparency center in Brussels in Q1 next year. That is also part of our longer term plan as well. We will also build and put in place similar open and transparent security management mechanisms in other parts of the world as needed…

Huawei is a company that originated from China, and we are not a public company. But that does not mean we cannot achieve the same level of transparency. We have taken a lot of efforts and measures in this area as well.

Very early on we announced our ownership structure so that people all know that Huawei is a private company that is owned by its employees.

Every year we go through the most strict processes of audit before we launch our annual report, so all stakeholders will know the authenticity, integrity and independence of our business operations.

At the same time, given certain specific concerns, we have been communicating with the governments around the world around the independence of Huawei's operations. The fact that we have never taken any requests from any governments to damage the business or networks of our customers or other countries. As I mentioned earlier, for any concern, the best way is to let the fact speak for itself. The fact is that over the last thirty years, there's been no major cyber security incident; there's been no cyber security threat; and there's been no evidence showing that Huawei is damaging cyber security. And we'll continue to take proactive communication engagement and also open collaboration so more and more people will be able to realize this.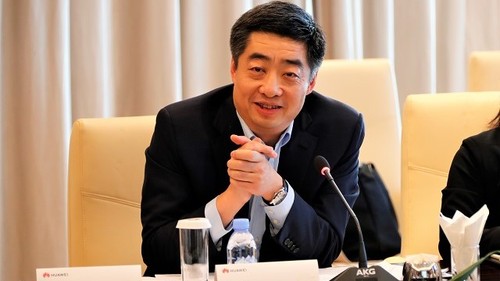 Hu also addressed a question from a Fortune journalist about whether Huawei could be compelled to act on behalf of the Chinese government.
Eamon Barrett, Fortune: So one of the issues that various governments have raised concerning Huawei and the potential security threat is the national intelligence law which was passed last year which would compel any industry or company to cooperate with China's national intelligence work. Now, it's fine to say that Huawei has never been asked by our government to infiltrate or otherwise spy on a network but if the Chinese government would come to Huawei and ask it to, what legal grounds would Huawei have to refuse such a request?

Hu: First, on December 10, the spokesperson of the Ministry of Foreign Affairs of China in a press conference formally clarified that no law in China requires companies to install mandatory backdoors.

Of course, just like the US and Australia, China also has certain legal requirements for counter terrorism or cybersecurity objectives. China also specially emphasizes that all government institutions or agencies must enforce the law according to the law. There are clear definitions.

For Huawei, our approach is to address these issues in strict accordance to the law. In the past, we haven't received any requests to provide improper information. In the future, we will also follow in strict accordance to the law in dealing with similar situations. When we talk about according to the law, the law has clear stipulations around the terms of reference for related agencies.
On the US market, he noted:
Hu: "Because Huawei cannot participate in the US market, we also notice that this is a market that is falling short of competition in a very big way.

According to some economists, from the period of 2017 to 2020, which we believe is a very important period for 5G deployment, if Huawei could participate in market competition, there would be US$20 billion of savings when it comes to capital expenditure for wireless infrastructure."
Hu also answered questions about Huawei's supply chain, but declined to directly address what might happen if Huawei was banned from sourcing technology components from the US in the same way that ZTE Corp. (Shenzhen: 000063; Hong Kong: 0763) was prohibited from such purchases earlier this year, a move that almost caused it to collapse.
Hu: "Today we have 13,000 suppliers in our supply chain. Companies coming from Japan, US, Europe, China and many other countries in the regions. Take this year for example, our annual procurement spend would be US$70 billion... Our supply chain strategy [is to have] a diversified supply strategy. That means we have a multi-sourcing strategy. We look at multiple choices in terms of technology solutions, and we also have multi-location supply networks. At the same time, since we're working together with hundreds of telecom operators in the world, and also we are serving a significant number of enterprise customers, so we look at the full lifecycle support that is needed and build up our stock of spare parts and components to ensure support across the product lifecycle."
And on 5G, his claims were very bold:
Hu: "Huawei has been awarded 25 commercial contracts on 5G. That number is bigger than that of any competitor in the industry. At the same time, we are in a significantly leading position on 5G no matter when we look at the leadership or maturity of our technologies... We have participated in dozens of pre-commercial tests on 5G. From the testing results, Huawei is at least 12 to 18 months ahead from a technical maturity point of view compared to other peers in our industry. This leadership of Huawei has been publicly acknowledged by our customers. For example, last month at the Mobile Broadband Forum held in London, the chief architect of British Telecom publicly commented that Huawei is the only true 5G supplier right now and others need to catch up." (See BT's McRae: Huawei Is 'the Only True 5G Supplier Right Now'.)
The full and lengthy transcript can be found on Huawei's website.
Hu namechecked South Korea's LG U+ in his remarks, noting that it had already launched its 5G service using networks that include Huawei technology. (See South Korea's 5G Lead May Bring Industrial Advantage.)
In his statements to the local media, the operator's CEO Ha Hyun-Hwoi noted: "Security concerns apply to every equipment vendor we partner with, not only Huawei, and we need to thoroughly verify all the equipment [we use] is secure... There are roughly 170 countries that are already using Huawei's network equipment, and there hasn't been any security problems reported so far."
Earlier this week, Telecom Italia (TIM) told Light Reading it had no plans to change its working relationship with Huawei, though other European operators have not taken the same view. (See Telecom Italia Stands by Huawei as Peers Waver and Orange Rules Out Huawei for 5G in France and Huawei Cut Out of BT's Mobile Core, Optical & Edge Plans.)
— Ray Le Maistre, Editor-in-Chief, Light Reading