How the West Can Hurt Huawei

Comment (2)
For years, Huawei has been trying to raise its profile in the West. Well known in industry circles as the world's biggest maker of the boxes and antennas that make up today's telecom networks, it has never enjoyed the same recognition as the US tech giants, despite its recent push into smartphones. Having a name that is hard(er) for Westerners to pronounce has not helped: Attempts at it by those unfamiliar with the company suggest links to the Hawaiian Islands, or sound like a sporting battle cry from the north-east of England.
But citizens from Vancouver to Volgograd are suddenly trying to get their lips around the requisite vowels. Unfortunately, for Huawei, they are doing it for all the wrong reasons. Last week, the company's chief financial officer, Meng Wanzhou, was arrested in Canada at the behest of US authorities. Allegedly owning more passports than Jason Bourne -- at least seven, according to prosecutors -- she is accused of covering up business deals with Iran, in breach of US sanctions, and could spend up to 30 years in a US jail if found guilty. China has angrily demanded her release and threatened Canada with retribution. Meng has swiftly become the central figure in a major diplomatic spat, and Huawei's name is plastered across more newspaper headlines than it ever managed with a smartphone launch. (See Canada Arrests Huawei CFO – Report, Huawei CFO Committed Sanctions Fraud, US Alleges – Reports and China Slams Huawei CFO's Arrest, Huawei 'Not Aware of Any Wrongdoing'.)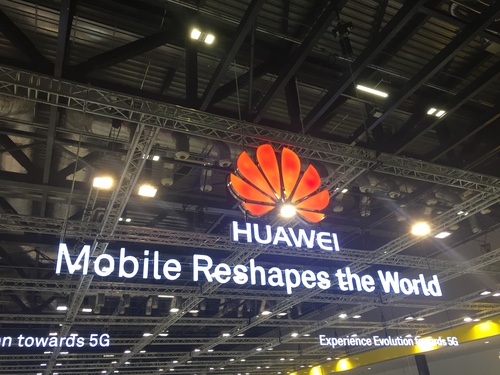 Meng's arrest, however, simply marks an escalation of a long-running US campaign against Chinese vendors Huawei Technologies Co. Ltd. and ZTE Corp. (Shenzhen: 000063; Hong Kong: 0763). Neither has been able to operate freely in the US market since 2012, when a government report first described them as a threat to national security. More recently, the US has been leaning on Western allies to shut them out of 5G deals. Charged with violating sanctions against Iran earlier this year, ZTE was temporarily banned from acquiring any US components, and nearly went out of business. It is now fighting to overcome the doubts of existing customers. (See Amid the rubble of L'Aquila, ZTE tries to rebuild.)
The backlash against the two firms is clearly part of a geopolitical struggle between the US and China over the technology that will underpin the future global economy. Just as oil shaped the geopolitics of the 20th century, countries are now battling over the software and network tools that will let them move and exploit huge volumes of data about people, organizations and machines. For the superpowers of China and the US, falling behind in 5G or artificial intelligence would be akin to a military defeat.
After sinking their talons into ZTE, hawks in the US administration are now swooping on the far juicier Huawei, which threatens to carry its 4G dominance into the 5G era. Their case against the company rests on three broad tenets. The first is that Huawei, like other Chinese firms, has made a habit of ripping off US innovation and effectively stealing US intellectual property. Second, they argue, Huawei is a "bad actor" that has scant regard for international law and sells gear to blacklisted regimes, such as Iran. Finally, it is seen as a major threat to security: Using "backdoors" in Huawei's products, the Chinese government could spy on the West, say hardliners.
Unlike ZTE, which pleaded guilty to the second of these charges and paid hefty fines to lift the components ban, Huawei vigorously refutes all the accusations. But there is little sympathy for its plight in industry circles. Even if the "copycat" label is no longer justified, a Huawei employee was caught red-handed snooping on a competitor's circuit boards back in 2004, as reported by Light Reading at the time. One industry executive who recently spoke with Light Reading on condition of anonymity said network boxes from Huawei were nearly identical to older equipment from Cisco Systems Inc. (Nasdaq: CSCO) as recently as five years ago. "It was as if they had just switched the logo," he said. (See Huawei in Spying Flap.)
Nor, presumably, would US prosecutors have pushed for Meng's arrest unless they had compelling evidence against her. While China continues to howl in protest about the violation of Meng's human rights, Huawei has merely said it is "unaware" of any wrongdoing and remains confident the US and Canadian justice systems will arrive at a fair conclusion. As the full details emerge in court, and are published in the world's newspapers, the statements from Huawei's press relations team will be worth monitoring.
Of all the various charges, the security issue has provoked the most debate and is perhaps the chief concern outside the US market. There has never been any clear, published evidence that Huawei's equipment is somehow less "safe" than gear from Western rivals, or that Chinese spooks have inserted spyware in Huawei products. But that is perhaps not the point. If vast pools of data about people, organizations and machines become tomorrow's most valuable commodity, the companies that deal in this data will be the world's most powerful. That one of these companies is Chinese -- and may be forced to share information with the Chinese state -- must unnerve anyone concerned about China's system of government and intentions toward the West.
There are also concerns in the US, particularly among politicians and industrialists, that a Chinese company could be the dominant global supplier of the 5G networking systems that will essentially act as the digital foundations for businesses of all types -- even if all security concerns were dispelled, these stakeholders would be unhappy to see Huawei play such a pivotal global role.
Whatever its rights and wrongs, the campaign against Chinese vendors could damage a telecom market that depends on global supply chains and competition. In the worst-case scenario, the sector would become balkanized as government restrictions force equipment vendors to retreat behind regional or even national boundaries. That could drive up prices for telecom operators and delay the rollout of next-generation networks, hampering economic growth in other sectors. But the impact on Huawei and ZTE would be most severe.
Next page: The four horsemen of the Huawei apocalypse
PARTNER PERSPECTIVES
- content from our sponsors
GUEST PERSPECTIVES
- curated contributions