Eurobites: San Marino to Be 5G Testbed for Telecom Italia
Also in today's EMEA regional roundup: Telenor shows steady growth in Q2; MTS parent runs into technical default on credit facility; problems at Vodafone Qatar.
Telecom Italia (TIM) is to use the enclaved micro-state of San Marino as the testbed for 5G technology, making it the first country in the world to boast a nationwide 5G network, according to the Financial Times (subscription required). The operator plans to start 5G trials in San Marino next year, doubling the number of mobile sites and installing a network of small cells in the republic's capital. San Marino, which is best known to many as the whipping-boy of European soccer, extends to just 61 square kilometers in area and is home to slightly more than 30,000 people.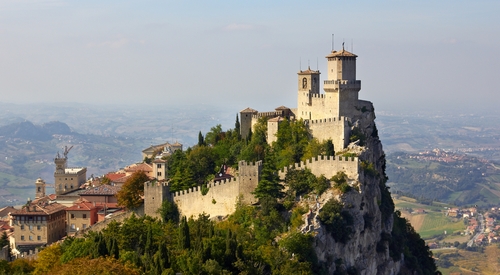 Second-quarter revenues at Norway's Telenor Group (Nasdaq: TELN) grew by 2% year-on-year to 31.5 billion Norwegian kroner (US$3.85 billion), with reported EBITDA increasing by 12% to NOK12.7 billion ($1.5 billion). Based on these results, Telenor has revised its financial outlook for 2017, lifting the EBITDA margin guidance to 38-39%, from around 37% previously.
Sistema, the parent company of Russia's Mobile TeleSystems OJSC (MTS) (NYSE: MBT), has been hit by a "technical default" on 3.9 billion Russian roubles ($66 million) of debt as a result of an assets freeze imposed on the company as part of its legal dispute with oil giant Rosneft. According to a statement from MTS, the default is due to non-compliance with certain conditions relating to its credit arrangements and should not prevent Sistema from "servicing its credit and financial obligations in a timely manner."
Vodafone Qatar QSC 's mobile network was being plagued by "technical issues" on Monday, with a number of customers telling Reuters that they were unable to make or receive phone calls.
Exponential-e Ltd. , the UK cloud services provider, has appointed Henry Pepperall as chief financial officer. Pepperall's resume includes stints at big-name companies such as Vauxhall Motors and Electrolux, but his most recent berth was at technology reseller Kelway.
Openreach , the network access company that is in the process of being legally separated from parent BT Group plc (NYSE: BT; London: BTA), is in advanced talks with the UK government over a deal to spend hundreds of millions of pounds to fulfill a new Universal Service Obligation (USO) that is intended to ensure that no household or business receives a broadband downlink speed of less than 10 Mbit/s. As the Daily Telegraph reports, Openreach is offering to make the investment without the help of a government subsidy, subject to guarantees on regulated pricing.
A report commissioned by insurance giant Lloyds of London has concluded that a major global cyber attack could lead to an average of $53 billion (£40.48 billion) in economic losses, Reuters reports. This would put the impact of such an event on a par with Hurricane Sandy, which wreaked such havoc back in 2012. The recent WannaCry ransomware attack was thought to have caused around $8 billion worth of economic fallout globally.

— Paul Rainford, Assistant Editor, Europe, Light Reading
Like what we have to say? Click here to sign up to our daily newsletter
One of America's most loved telecoms get-togethers, The BIG 5G Event, will be returning to Austin in 2023 to host 1,500+ telecom, cloud and technology professionals — and we want you to be a part of it!
For three days, you can meet and network with leaders from every part of the North American 5G ecosystem and hear from over 150 speakers on the hottest industry topics. To apply for your complimentary pass to the event, visit this link.
PARTNER PERSPECTIVES
- content from our sponsors