Eurobites: Nokia, Qualcomm Boast 5G Network-to-Device Interop Tests

Comment (0)
Also in today's EMEA regional roundup: Elisa tests virtual reality and more on pre-standard 5G; VodafoneZiggo upgrades core with Ericsson; Com Hem gets 1.2Gbit/s symmetrical over fiber coax.
Nokia Corp. (NYSE: NOK) and Qualcomm Technologies have completed interop testing in Finland between the former's AirScale basestation and device prototypes provided by the wireless chip giant. Nokia says the successful tests were completed using 3.5GHz and 28GHz spectrum "compliant with the global 3GPP 5G NR Release 15 standard." The vendors say the tests will provide the basis for field trials with operators during 2018, and named BT/EE, Deutsche Telekom, Finland's Elisa, South Korean operators KT, LGU+ and SKT, NTT DOCOMO, Australia's Optus, Telia and Vodafone Group amongst the network operators ready to crack on with such trials. Such interop tests are vital for 5G's field trials, so this is an important development, though Nokia isn't the first to achieve this -- Ericsson AB (Nasdaq: ERIC) managed such tests late last year. (See Mobile Big Guns Boast Multi-Band 5G NR Interop and 5G Is Official: First 3GPP Specs Approved.)
Also in Finland and sticking with the 5G theme… Network operator Elisa Corp. says it has tested virtual reality, augmented reality and gaming applications on a pre-standard 5G network using 3.5GHz spectrum. Network equipment and terminal devices from Huawei Technologies Co. Ltd were used for the tests, during which a speed of 1.4 Gbit/s was recorded between the test network basestation and terminal.
Dutch operator VodafoneZiggo has opted for Ericsson's Evolved Packet Core to upgrade its cloud infrastructure and facilitate, among other things, the introduction of so-called "network slicing," which allows bandwidth and latency to be tailored to particular applications or services. The upgrade will be implemented during the second half of 2018. VodafoneZiggo was formed in 2016 from the merger of Vodafone and Liberty Global's respective Dutch operations. Earlier this month Vodafone confirmed that it is in talks to potentially acquire certain Liberty Global assets in Europe, though it ruled out a mega-merger. (See Vodafone, Liberty Global Form Dutch JV and Vodafone in Talks to Acquire Liberty Global Assets.)
Swedish cable operator Com Hem AB , which is set to be acquired by Tele2 in a $3.3 billion deal, has been testing 1.2Gbit/s symmetrical broadband over its fiber coax network. The company says the trial, which is taking place at a property in Stockhom, is being carried out as part of a move to DOCSIS 3.1, with a view to commercial launch of the technology in 2019.
Swisscom AG (NYSE: SCM)'s full-year results are in, and it's holding steady, but nothing more. Net revenue for the year was up 0.2% to 11.66 billion Swiss francs (US$12.4 billion), while EBITDA was similarly flat at CHF4.29 billion ($4.56 billion). On its home turf, the operator suffered from the ongoing decline of fixed-line voice and lower income from those once-lucrative roaming services. See this release for more details.
Separately, Swisscom has announced it is tightening security for "non-sensitive" customer data following the "misappropriation of a sales partner's access rights," which led to some miscreant or other gaining unauthorized access to names, addresses, phone numbers and dates of birth of around 80,000 Swisscom customers. In the future, says the operator, it will no longer be possible to run "high-volume queries" on all customer information, and two-factor authentication will be introduced in 2018 for all data access required by sales partners.
Salt SA , a (much smaller) competitor to Swisscom, says that its 4G network now reaches 98% of the Swiss population, and that is has now surpassed Sunrise Communications AG in terms of 4G performance. It also paid tribute to its field engineers, who spend much of January clearing chunks of snow and ice off antennas and control stations following winter storms.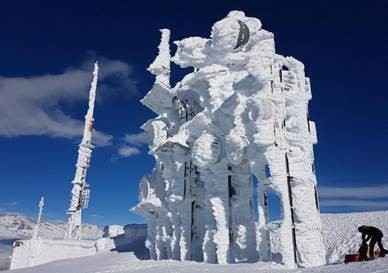 Telecom Italia (TIM) CEO Amos Genish says the operator plans to combine all its fixed-line network assets into a separate company under the full control of the Italian incumbent, Reuters reports. Rumors of such a move have been doing the rounds for months, but it does seem that the separation is officially on the table. (See Eurobites: Telecom Italia Gets Serious About Fixed Network Spin-Off and Telecom Italia Drama: What Is Vivendi Up To?)
The BBC is releasing its first augmented reality app to coincide with the airing of its Civilisations series in the spring. According to the broadcaster, the app will allow history fans view and find out more about the various ancient artefacts featured in the program. For example, those with the app will be able to look at a mummy inside a sarcophagus, and see what a sculpture would have looked like when it was made, before the ravages of time did their work.
Also deploying the A-word is BT Group plc (NYSE: BT; London: BTA), which has joined forces with the UK Government's Cabinet Office to launch a competition aimed at finding small and midsized companies who know their onions when it comes to machine learning, robotics and artificial intelligence. However, the focus this year is on "augmented intelligence." A prize pot of £30,000 ($41,600) awaits the three winners. Now, here at Eurobites Towers we're not entirely sure what augmented intelligence is, but we know we want some of it.
The European Commission is to examine the proposed acquisition of music-recognition software company Shazam Entertainment Ltd. by Apple Inc. (Nasdaq: AAPL) from a competition viewpoint after receiving requests to do so from the national authorities of Austria, France, Iceland, Italy, Norway, Spain and Sweden.

— Paul Rainford, Assistant Editor, Europe, Light Reading
EDUCATIONAL RESOURCES



PARTNER PERSPECTIVES
- content from our sponsors
GUEST PERSPECTIVES
- curated contributions