Just as the Internet ushered in a new digital economy in the late 20th century, Ericsson CTO Ulf Ewaldsson believes the advent of 5G wireless connectivity will fundamentally change business models once again.
It won't happen immediately. At first, operators will focus on targeted, practical deployments such as the use of 5G for fixed wireless access in the US, and early mobile broadband rollouts of the technology globally, Ewaldsson says in a CES interview. Ericsson AB (Nasdaq: ERIC) is already working with customers such as AT&T Inc. (NYSE: T), Verizon Communications Inc. (NYSE: VZ) and service providers in Korea to get the first 5G trials off the ground. He says that early (pre-standard) 5G launches will take place later this year and in 2018. (See also AT&T, Ericsson & Qualcomm Get Ready to Test 5G Radio in 2017.)
After a ramp-up in connectivity, Ewaldsson sees the second phase of 5G focusing on performance improvements. Once new fiber is accessible and the radio access problem is solved, Ewaldsson says, "We're going to see other parts of the network becoming the bottleneck," which will require technologists to reorient their attention.
But it won't be until the third phase of 5G deployments that the real business model changes will take place.
"5G's going to take us to a totally new level," says Ewaldsson. "My personal bets on this, you talk about the new business models, I think shared economy" will be a reality.
Ewaldsson also believes there will be more cooperation between and among network operators as 5G evolves. He notes that "the real pressure on [operators] comes from northbound," meaning that as network operators continue to face more competition from application providers, they're more likely to work together to combat threats to the industry.
"I think over time... over time this market will consolidate into a number of whole operators that do everything," Ewaldsson says, meaning connectivity for fixed and wireless broadband as well as voice and video. However, he adds, it's still a question as to how that consolidation takes place.
---
For all the latest news on 5G, visit the 5G site here on Light Reading.
---
In the short term, Ericsson is content to show what 5G can already enable. At CES, outside the interview room with Ewaldsson, the company had multiple 5G demonstrations on display. In one, an executive showed 360-degree video streaming from the nearby Intel booth to a headset in the Ericsson exhibit space. The demo required Intel to stitch together and encode content from multiple camera angles and then transmit it over 5G using Ericsson's equipment. According to Ericsson, the video stream was broadcasting at a rate of 20 megabits per second, with total capacity over the 5G link in the booth reaching into the multi-gigabit range. Latency measured at about 2 milliseconds.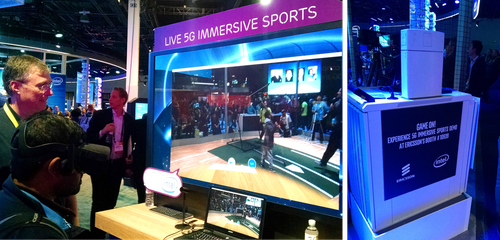 Ericsson also showed its MediaFirst multiscreen video platform streaming over 5G, and illustrated how 5G might be used to transmit 4K video from a car moving at 200 miles per hour to a viewing feed for audience members at a race.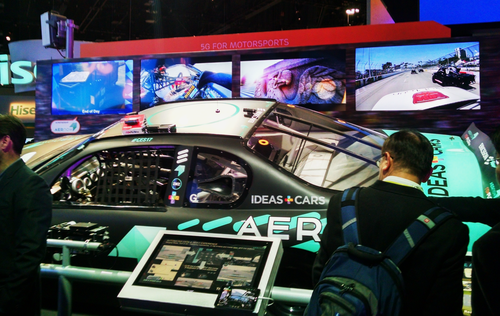 As for who's interested in Ericsson's 5G capabilities, Ewaldsson says there are numerous operators asking for insight on how they should approach next-generation wireless deployments. That includes the customers Ericsson has already mentioned publicly, but also other telcos and even cable companies as they look at expanding into wireless distribution.
"There's a lot of 5G interest," says Ewaldsson.
If CES is any indication, that may well be an understatement.
— Mari Silbey, Senior Editor, Cable/Video, Light Reading