DT to Splurge €12.5B in 2018 Capex as It Preps for 5G

Comment (0)
Deutsche Telekom will loosen the purse strings and invest €12.5 billion (US$15.4 billion) in capital expenditure this year, up from €12.1 billion ($14.9 billion) in 2017, as it continues to invest in its fiber and mobile networks in advance of launching next-generation 5G services in 2020.
The update came as the German telecom incumbent reported strong results for the 2017 fiscal year, with revenues up 2.5%, to €74.9 billion ($92 billion), and adjusted earnings (before interest, tax, amortization and depreciation) rising 3.8%, to €22.2 billion ($27.3 billion).
Net profits soared 29.4%, to €3.5 billion ($4.3 billion), thanks to a tax gain in the US and after results in 2016 were hit by a writedown of Deutsche Telekom's investment in BT, its UK counterpart.
But investors appeared disappointed by the earnings announcement after Deutsche Telekom AG (NYSE: DT) forecast sales growth of just 1-2% this year and said that unadjusted earnings would decrease in 2018. The operator's share price was trading nearly 3% lower in Frankfurt at the time of publication.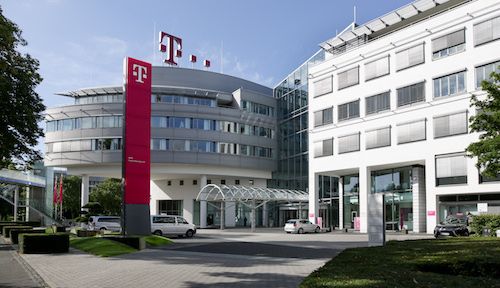 The German operator has come under growing political and competitive pressure to increase spending on full-fiber networks. It has promised to increase German fiber penetration -- meaning networks that use a mixture of copper and fiber -- to 80% this year, from 71% in 2017. A short-term goal is to ensure 18 million German households, equaling about 45% of the country's total, can access 250Mbit/s services by the end of the year. (See Germany's 5G Auction & the Gigabit Dream and FTTH Pressure Grows on Deutsche Telekom.)
Most of those connections will be delivered using a technology called supervectoring, which boosts signals over last-mile copper connections, and not over full-fiber networks.
But Deutsche Telekom has previously promised that full-fiber spending will start to increase in 2019. In documents published today, it said it would provide further details on "ongoing high investments towards gigabit targets" at a capital markets day in May. On the business side, meanwhile, it plans to connect 80% of German business districts to fiber networks by the early 2020s. (See DT to Ramp Up FTTH Capex Starting in 2019.)
The need for state-of-the-art fixed-line infrastructure is expected to grow as operators invest in higher-speed 5G mobile networks, which will rely heavily on fiber for "backhaul" connections between basestations and core network systems and for "fronthaul" connections between disaggregated radio access network (RAN) elements. This year, Deutsche Telekom says it will deploy 60,000km of fiber in Germany, up from 40,000 in 2017.
Nevertheless, some additional spending will go on the mobile network itself. An infrastructure subsidiary called Deutsche Funkturm (DFMG), which is led by former CTO Bruno Jacobfeuerborn, is to work on building the additional cell sites that 5G will demand.
Deutsche Telekom currently maintains about 28,000 towers across Germany, but the operator has formerly suggested that figure could even double with the rollout of 5G technology in the 2020s.
Having added about 500 cell sites annually between 2014 and 2017, DFMG will increase the annual rate of construction to about 2,000 towers in the "mid-term," said Deutsche Telekom.
An immediate aim is to ensure that 4G covers 98% of the German population by the end of 2019. In the longer term, the extra sites may be needed to support 5G services running over very high frequencies, which do not blanket wide areas or penetrate buildings as effectively as lower-range spectrum.
Even so, to ensure it can provide better 4G coverage, and lay the foundations for a wide-area 5G network in future, Deutsche Telekom has also been investing in 4G technology that runs over low-band spectrum in the 900MHz range. At the same time, it is equipping all of its German cell sites with single RAN (radio access network) systems that will support a multitude of mobile standards.
Last year, the operator flagged a major RAN deal with Ericsson AB (Nasdaq: ERIC), which says it is providing 5G-upgradeable baseband gear for a portion of Deutsche Telekom's German network. The Swedish vendor was subsequently revealed by Light Reading to have replaced Nokia Corp. (NYSE: NOK) as one of Deutsche Telekom's two main RAN suppliers in Germany -- the other being China's Huawei. (See DT Ditches Nokia From Its German Radio Access Network and Ericsson Replaces Major Rival as DT Supplier in 5G Deal.)
Coming shortly after France's Orange (NYSE: FTE) revealed that it would also increase investments this year, Deutsche Telekom's update may provide some comfort to equipment vendors that have recently complained about spending cuts by major customers. (See Orange Capex to Peak at €7.4B in 2018.)
That said, Orange has warned the industry that its capital expenditure will start to fall after 2019, and Deutsche Telekom is predicting a "slight decrease" in spending in 2019.
Moreover, most of the forecast increase this year will go into T-Systems, the operator's IT services division and the only one of its main operating units to report a sales decline in 2017.
Overall investments in Germany will rise from €5.4 billion ($6.6 billion) in 2017 to €5.7 billion ($7 billion) this year. Telekom Deutschland, the German subsidiary, will account for about €4.2 billion ($5.2 billion) of this figure, matching its investment levels last year.
The other €1.5 billion ($1.8 billion), it seems, will come from T-Systems and DFMG. While a breakdown is not provided, Deutsche Telekom said DFMG spending would remain "elevated" in 2018, rising €100 million ($123 million) on the 2017 figure.
---
Want to read the hot news and views from Mobile World Congress 2018? Check out our dedicated MWC 2018 news section to keep up to date with the key developments from Barcelona.
---
Gearing up
The details have emerged as operators in Europe and elsewhere start to gear up for the introduction of 5G technology, following progress on the standards front in 2017. (See 5G Is Official: First 3GPP Specs Approved.)
During last year's Mobile World Congress, CEO Timotheus Höttges said Deutsche Telekom planned to launch 5G across its entire network footprint, but the industry expects 5G to coexist with 4G for many years. (See DT Plots 5G Across Entire Footprint.)
Deutsche Telekom's latest projections of a spending decrease in 2019 further suggest there will be no "big bang" 5G rollout. Instead, the operator is likely to use 5G in particular hotspots or to support new applications in industrial markets, such as factory automation and connected car services.
Bengt Nordström, the CEO of the Northstream consulting group, and Laurent Paillassot, the CEO of Orange Spain, have previously told Light Reading that nationwide 5G rollout could take up to a decade. (See Orange Spain CEO Puts 5G Squeeze on Ericsson, Nokia and Has the 5G Upturn Begun?)
But Deutsche Telekom is clearly developing a network strategy around the next-generation mobile technology. Some of its recent organizational changes also highlight its keen interest in 5G.
Earlier this year, Bruno Jacobfeuerborn was revealed by Light Reading to have relinquished his CTO role to focus instead on the DFMG business. Höttges, meanwhile, has reportedly said this towers subsidiary could eventually be spun off to raise capital for investment activities.
At last year's Mobile World Congress, Jacobfeuerborn said greater network sharing could help to reduce 5G rollout costs. He also predicted that a towers company operating like Crown Castle, which rents capacity to US mobile telcos, would take shape in the European telecom market. (See DT CTO: Costs Must Fall or 5G 'Won't Work'.)
Another indicator of Deutsche Telekom's 5G focus is the recent recruitment of Alex Choi, the former CTO of South Korea's SK Telecom, to lead its networks strategy. (See Choi Succeeds Jacobfeuerborn as DT Tech Boss.)
Choi is regarded as an expert in areas including 5G and artificial intelligence, which will have a key role to play in managing the complexity of 5G networks.
China's Huawei this month said 5G networks would have about 50 times as many configurable parameters as their 4G predecessors -- too many for an operator to handle manually. (See Huawei Commits Up to $20B for Annual R&D, Fleshes Out AI Pitch.)
— Iain Morris, News Editor, Light Reading