Deutsche Telekom boss Timotheus Höttges has said 80% of the German operator's mobile network is now "5G ready" as it works toward a commercial launch of the next-generation mobile technology in 2020.
Höttges told a conference of German business leaders that around 22,000 of Deutsche Telekom AG (NYSE: DT)'s 27,000 mobile sites were now connected to high-speed fiber-optic lines and using single RAN (radio access network) systems that allow different radio standards to run on the same hardware. (See DT Will Start Commercial 5G Trials in 2018.)
He expects to launch the first 5G commercial services in 2020 when handsets are available in "sufficient numbers."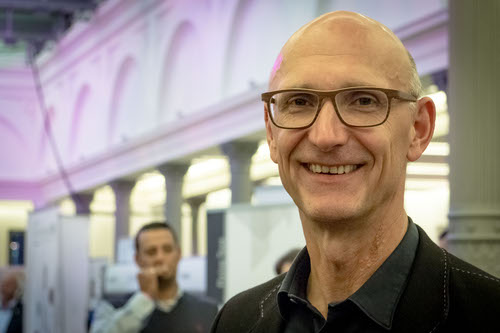 Höttges also restated a commitment to invest about €5.5 billion ($6.4 billion) annually in the rollout of broadband networks in Germany. Deutsche Telekom's fixed-line broadband plans are based mainly around the use of vectoring and supervectoring, which boost connection speeds over last-mile copper connections, but the operator is now building some all-fiber networks in partnership with local municipalities and other investors. (See DT Seeks Fiber Allies to Tackle Germany's Gigabit Lag.)
The Deutsche Telekom CEO is due to unveil an eight-point plan at an event in Berlin today, when more details of the operator's 5G strategy may emerge.
He has invited German businesses that expect to benefit from 5G to "clarify the specific quality requirements they have for our network in terms of coverage, latencies and bandwidth."
"We need 5G for the Internet of Things and for controlling autonomous machines or smart cities," he said in a statement that was published on Deutsche Telekom's website. "We are offering industry an opportunity to support the development of a European, standardized platform -- contributing expertise and equity … All projects that are critical to successful business in Germany will be given priority."
Hold your 5G horses
Despite the upbeat assessment of Deutsche Telekom's 5G "readiness," Germany is one of several European countries that have yet to auction the new spectrum operators will need to support 5G services. Concern about the potential cost of this spectrum, and the conditions that authorities may attach to spectrum licenses, has grown since this month's Italian 5G auction dramatically overshot expectations. (See Italy's $7.6B 5G bonanza puts telcos on the rack.)
Italy's operators agreed to pay as much as $7.6 billion for new 5G licenses during an auction that has been heavily criticized for driving up spectrum fees. The danger now is that spectrum payments leave operators short of the funds they need to build 5G networks.
Moreover, while Deutsche Telekom might be able to "software upgrade" its baseband systems to support 5G technology, it may still need to make investments in new radio equipment compatible with the spectrum it eventually secures in a forthcoming frequency auction. (See Germany's 5G Auction & the Gigabit Dream.)
The operator uses Ericsson AB (Nasdaq: ERIC) and Huawei Technologies Co. Ltd. as baseband suppliers in Germany. Ericsson was revealed by Light Reading to have displaced Nokia Corp. (NYSE: NOK) in that role in late 2017. (See DT Ditches Nokia From Its German Radio Access Network and DT Poised for 5G Launch as Huawei Antennas Go Up in Berlin.)
Like other operators planning 5G launches, Deutsche Telekom's initial focus is likely to be on providing additional capacity -- or what is commonly termed "enhanced mobile broadband" -- in busy urban areas, and not on supporting the low-latency, industrial applications that Höttges discussed.
Indeed, his outreach to German business leaders could reflect some anxiety about the lack of specific "use cases" for 5G technology. While autonomous driving and remote surgery are typically cited as examples of the new services 5G could support, there is skepticism that either will arrive in the short term or that 5G will be needed in these scenarios. (See 5G Still More Like Rocket Fuel Than a Mission to Mars.)
Developing the 5G networks that can support these kinds of applications will require more than just an upgrade of radio access networks. Even as Höttges outlines his eight-point plan, executives at this week's SDN NFV World Congress in The Hague were wrestling with the challenge of building more automated, software-based and virtualized networks. (See Piecing Together the 5G Big Picture.)
"5G was positioned as a technology for generating new business and we hope that is still true," said Marcus Brunner, the Swisscom AG (NYSE: SCM) head of standardization, during a talk at The Hague late Wednesday. "More capacity is a no brainer and not a big issue, but we need to be able to stitch together services out of different components. We need low delay and network slicing."
Virtualization, which separates network hardware from software, should help operators to reduce latency, the signaling delay that occurs on data networks, according to Scott Petty, the Vodafone UK chief technology officer. With lower latency, operators would be able to handle services like virtual and augmented reality on mobile networks, he said during a recent event at Vodafone's UK headquarters. (See Vodafone's Holo Demo Dazzles Crowd, But Is It a Viable 5G Use Case?)
That virtualization is also needed for network slicing, whereby a single 5G infrastructure provides many different types of network service. Japan's NTT DoCoMo Inc. (NYSE: DCM) is one operator that has been carrying out trials of network slicing in partnership with Ericsson. "Those slices can provide different services and the technology will be very important in the 5G era," said Hiroyuki Oto, the general manager of core networks at DoCoMo, during the event in The Hague. (See DoCoMo Capex Down 10% Thanks to NFV, Says Exec.)
---
Want to know more about 5G? Check out our dedicated 5G content channel here on
Light Reading.
---
However, there has been widespread acknowledgement this week that network functions virtualization (NFV) has not delivered the benefits that were promised six years ago, when it first emerged as a concept. Operators are now telling vendors they need "cloud-native" functions they can run in any public, private or hybrid cloud environment for additional benefits. (See NFV 1.0 Is Passé; Cloud Native Is Coming and NFV Struggles With Its Six-Year Itch.)
In addition, the deployment of low-latency and higher-speed services will inevitably demand investment in new mobile sites and edge infrastructure, much closer to the end user than traditional data centers. (See MobiledgeX Revs Up & Shifts Into Gear.)
Deutsche Telekom's towers subsidiary added about 500 new sites annually between 2014 and 2017. This year it said it would increase the annual rate of construction to about 2,000 towers in the mid-term. But Thomas Dannenfeldt, Deutsche Telekom's chief financial officer, has previously suggested that Deutsche Telekom's sites footprint may eventually double with the rollout of 5G. (See DT to Splurge €12.5B in 2018 Capex as It Preps for 5G.)
Bruno Jacobfeuerborn, the CEO of the towers business, hopes the development of more open interfaces in the radio access network will help to lower 5G costs. Deutsche Telekom is one of the founding members of a relatively new industry group called the ORAN Alliance that hopes to cultivate a "white box" market for radio gear. (See The Future's Bright, the Future's ORAN.)
Restrictive interfaces in today's mobile networks mean operators usually need to buy radio gear from their baseband suppliers. In a white box world, they would ideally have more freedom to use off-the-shelf equipment from any number of manufacturers. (See Why Resistance to the Open RAN May Crumble.)
— Iain Morris, International Editor, Light Reading