BT Tech Chief Makes Plea to 5G Chip Vendors

Comment (6)
BT's leading tech executive, Howard Watson, has issued a plea to the components companies developing 5G wireless chipsets: Please don't chase country-specific spectrum opportunities -- focus on global requirements that will benefit operators worldwide.
Watson, who is the CEO at BT Group plc (NYSE: BT; London: BTA)'s technology, service and operations division (effectively the CTO/CIO), used his keynote spot at last week's 5G World event in London to send the message out to the likes of Qualcomm Inc. (Nasdaq: QCOM) and Intel Corp. (Nasdaq: INTC). He stressed that sub-6GHz and millimeter wave (mmWave) spectrum (30GHz-300GHz) will be used in all markets whereas chipsets supporting other spectrum bands would have less global applicability.
Watson is obviously keen that mass market chipset availability for the globally applicable spectrum bands will arrive sooner rather than later, enabling network operators such as BT, which now owns UK mobile operator EE, to source lower-cost technology to support 5G service plans.
Watson didn't elaborate, but it seems he's concerned that the chipset vendors will spend too much time and effort chasing limited, near-term opportunities, such as the fixed wireless 5G developments being driven by Verizon Communications Inc. (NYSE: VZ) in the US, in order to claim a leading position in the 5G market: Such moves might delay the availability of the "global" components. Verizon's 5G fixed wireless plans are built around 28GHz spectrum capabilities, whereas Europe is set on sub-6GHz and 26GHz bands. (See Nokia Gets in on Verizon 5G Tests.)
With regards to 5G, "we need predictability on spending… we need to work out the business cases and opportunities with our partners," including the industry's leading vendors, noted Watson.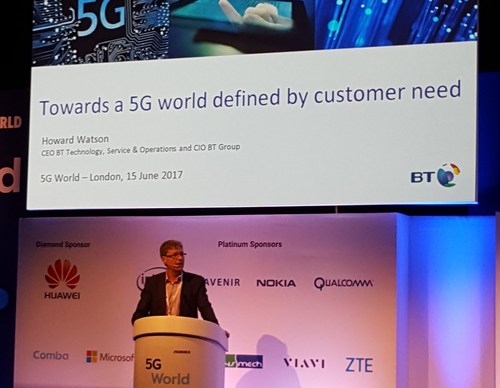 In the meantime, EE is pressing ahead with its 4G LTE evolution strategy that includes the deployment of LTE-A Pro technology that can deliver downstream speeds of more than 400 Mbit/s. (See The EE Network Just Got Even Faster.)
"We need to set a baseline with 4G and build on that to transition to 5G," noted Watson. EE now has 80% geographic coverage of the UK with its 4G LTE service, said the BT man, and is aiming for 95% geographic coverage by 2020. It's clear, though, that the EE team is facing some challenges in expanding its 4G radio access network and is concerned that 5G network rollout could also be tricky. (See UK Needs Policy Overhaul to Be 5G Leader, Says EE Boss.)
While it expands and upgrades its 4G network, EE is collaborating with multiple partners on "pre-5G" developments, including Massive MIMO with Bristol University, mmWave technology with Nokia and network slicing in the core with Huawei. It's also working internally on the "seamless integration" of its fixed and mobile networks on a single IP-based infrastructure.
But there's also a major focus on how evolving user demand will shape network capabilities. "Next generation networks will be based on customer needs, and not be technology-led," said Watson, noting that BT/EE needs to understand what customers will be able to do, and want to do, with smartphones in 2020 and beyond. Those needs will revolve around "high speed and high capacity, ubiquitous coverage, consistent service" and the integration with fixed-line networks. So there's a lot of work to do…
To that end, BT is already experimenting with emerging bandwidth-hungry services: BT recently offered sports fans the opportunity to experience the Champions League soccer final in a virtual reality format and about 250,000 viewers (of a total audience of 6 million) tried it out, according to Watson.
The operator also showed off the potential of low-latency networks by teaming up with King's College London for a low-latency, high-availability "remote surgery" trial, which was shown off at this year's MWC in Barcelona. (See BT, Ericsson, King's College London Team Up on 5G R&D, Testing and Does Ericsson's 5G-for-Healthcare Biz Case Need Surgery?)
— Ray Le Maistre,

, International Group Editor, Light Reading
EDUCATIONAL RESOURCES



PARTNER PERSPECTIVES
- content from our sponsors
GUEST PERSPECTIVES
- curated contributions