AT&T Wins Big, Gets Bigger: Judge Approves AT&T-Time Warner Merger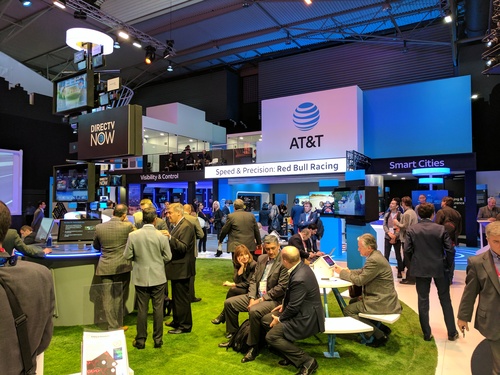 (24) |




Re: Giant steps

It's going to be interesting to watch how regulators are seemingly letting mergers get approvals with greater ease among huge companies. As "unprecedented vertical integration and scale," becomes more common it will be how consumers fair for better or worse versus technology and corporate profits moving more rapidly forward with such merger activity.

Re: Giant steps

I kind of stopped reading once I hit the insults. Just kidding, sort of. Anyway, there's no point talking at each other. Different perspectives yield different opinions. Or to steal a line from Sir Charles Barkley, "I may be wrong -- but I doubt it."

Re: Giant steps

Dennis,

Actually, it means exactly that. Why do you think Netflix is trying to move from the content distribution business into the content creation business. Add in Comcast. Add in AT&T.

Why do you think they want to spend their money? They do so to be in businesses of greater value. Otherwise, they would be wasting shareholder money.

Now I know you personally have a jaded view. But remember, you are being PAID to create content. I recognize that you would like it to be more and that you see yourself at the mercy of the distribution channels. That is because you have chosen a content path that has limited value. That's okay because most content is of little value. THere is a very high percentage of Youtube videos with 0 or 1 view. That is low-value content.

Carriers have a business model a lot like "Field of Dreams". They don't ask IF there is an ROI. They ask WHEN they will get an ROI. Content (and products) work differently. They have a much higher ROI ceiling, but the floor can be negative. The whole idea is to try to find ways of reducing that floor (which is why we end up with content franchises - Call of Duty, the MCU, Book Series, remakes of old TV shows). The goal is to try to provide a higher likelihood of success.

The way to make out as a Content Generator is (to use actor analogies) to be Brad Pitt or Bruce Campbell (who has a great book on the topic). How do you build a career (business) based on lots of smaller roles??

Who makes more money Film Makers or Theatres? Even if Film Makers can't get a film into Theatres, they can use other distribution channels. There will always be more. So, let's say Comcast starts charging Netflix. Guess what, other channels will get more business and Comcast will lose. There is no example in History where distribution beats content. It is because there is a lower barrier to entry on distribution than there is on premium content.

Content being charged by carriers will NEVER happen. We talk to carriers and they WANT it to happen. But it won't. They will spend $B trying to do so. In the end, they will just put in bigger pipers, up the service rates, and make more money. None of the large US carriers is in trouble. They just want more money. Nothing wrong with that. They are lying to themselves, vendors, analysts and the press about these "woes". To lose content, they will go back to consumer revenue of dial-up. Which means they would lose tremendous amounts of revenue.

seven



Re: Giant steps

Comcast's core business is content distribution. It pays for the content it needs for that business, just as any other business pays for the resources it needs to operate. It doesn't mean that content is more valuable than the distribution of that content. Content without distribution has limited monetary value.

Re: Giant steps



So, Comcast...aggregator other than NBC universal and will always PAY content....that is what you just posted.

seven



Re: Giant steps

I'd make a distinction between content producers and content aggregators. Netflix is an aggregator. Disney is a hybrid producer/aggregator. Distributors pay for content because they need something to distribute. Aggregators pay content producers because they need something to aggregate. It's a trickle-down system, and content producers are the last to be trickled on.

Re: Giant steps

LOL! No, it is the truth, justice, and the American Way.

Now let us take a look at the Linear TV market. As you recall, this was a complete monopoly for a long time. Who pays who? Does Disney pay Comcast? Nope, Distribution PAYS Content. Has since the days of the Illiad.

There is no possibility that Netflix is paying an ISP for distribution. It will be the other way around. And ALWAYS has been.

seven



Re: Giant steps

Now THAT'S sarcasm, right?

Re: Giant steps



Content has owned distribution for 3,000 years. Not going to end now.

seven

Re: Giant steps

Agree -- side deals will help OTTs keep distribution channels open. They are especially important for Netflix, which is a one-trick pony compared with Amazon, Google, etc.