America Is Losing the 5G Race, Says Deloitte

Comment (13)
For anyone who wants the US and China to find a way around their current trade impasse, the last thing American hawks needed was another reason to eye Beijing warily. But they just got it. In a report out today, consulting company Deloitte says China has already established a massive lead over the US in 5G. Catching up may be "near impossible," Deloitte warns.
The US famously lagged in earlier generations of network technology, and yet its economy remained the biggest in the world. The difference this time, says Deloitte, is that 5G will connect all manner of objects to the Internet, and not just our smartphones and tablets. That will boost productivity and give rise to new services. "Accordingly, countries that adopt 5G first are expected to experience disproportionate gains in macroeconomic impact," says Deloitte.
One can imagine Senators Chuck Shumer and Marco Rubio sputtering over their breakfasts. Fierce critics of China, both have accused Chinese companies of intellectual property theft. That is partly why Shumer opposed lifting a recent ban on sales of US components to ZTE Corp. (Shenzhen: 000063; Hong Kong: 0763), China's second-largest maker of network equipment, after it was penalized for breaching US sanctions. Any suggestion ZTE and bigger rival Huawei Technologies Co. Ltd. are propelling China into a 5G lead will only serve to aggravate the hardliners. (See Senate Republicans Capitulate to Trump's ZTE Deal .)
It may also come as a surprise. Recent news headlines have focused on a monster 5G deal between T-Mobile US Inc. and Finnish vendor Nokia Corp. (NYSE: NOK), as well as efforts by AT&T Inc. (NYSE: T) and Verizon Communications Inc. (NYSE: VZ) to launch 5G services in the next few months. Both Nokia and Sweden's Ericsson AB (Nasdaq: ERIC) refer to spending activity in North America when trying to enthuse investors, and note the post-4G slowdown in China. (See Nokia Reels In $3.5B 5G Deal With T-Mobile US, Verizon Confirms Mobile 5G in 'Early' 2019, AT&T Expects Mobile 5G in 'Parts' of 12 Markets by Year's End, Ericsson Back in Profit After Fierce Cuts & 5G Action and Profits Crash at Nokia's Networks Biz.)
Nor does China appear to be in a great hurry to launch 5G services ahead of its regional and global rivals. "There will be a couple of waves depending on the spectrum awarded," said Nokia CEO Rajeev Suri when commenting on 5G rollout during a recent earnings call. "South Korea will happen later this year and then you will have Japan starting at some point in the first quarter of next year followed by China around the end of Q2 or in Q3 next year."
Falling short
But a sprinkling of 5G in big US cities does not equal a revolutionary new technology. While US operators spout marketing rhetoric, and dream up buzz phrases like "5G Evolution," their Chinese peers have been quietly getting on with the job of laying sturdy foundations for the next-generation technology. Above all, this means investing in the additional sites 5G will need to support fast, low-latency services in high spectrum bands. After a wave of investment activity, China now has about 1.9 million mobile sites, according to Deloitte's research. The US has about 200,000.
China's sites lead has lengthened, too. Since 2015, it has outspent the US by around $24 billion, says Deloitte, and added another 350,000 sites. US companies have built fewer than 30,000. Seemingly overlooked until now, the Chinese spending boom appears to be the result of state activism with the creation of China Tower, an infrastructure firm in which each of China's three big service providers owns a stake. China Tower's site investments have totaled $17.7 billion since 2015. (See China Tower Plans $8.7B IPO in Hong Kong.)
---
Want to know more about 5G? Check out our dedicated 5G content channel here on
Light Reading.
---
The US, of course, has no such equivalent, and never will have. In January, a leaked US government report proposed "nationalizing" 5G with the deployment of a countrywide wholesale network open to all retail players. Such "single host" schemes have merit, as the China case shows, but are clearly anathema in the US. They could also be counterproductive, says Deloitte. "Such interventions … could risk disrupting a communications and technology ecosystem that has proven symbiotic and resilient over the past decade," its report concludes. (See Trump's 5G Plan Is Not as Bonkers as They Say.)
Instead, Deloitte advocates partnerships between operators and content partners to support investment activity. The subtext is that wealthy Internet companies should pay operators to carry services. Any such development, of course, would anger supporters of "net neutrality" -- the principle that all Internet traffic be treated equally and on non-discriminatory terms -- although it may be acceptable under new legislation. (See Net Neutrality Is Not a Rational Debate.)
Naysayers may argue that China needs more towers because it is much bigger, but the details of Deloitte's analysis are not encouraging. The US currently has only 4.7 sites per 10,000 people, against China's 14.1. For every 10 square miles, there are just 0.4 sites in the US, compared with 5.3 in China.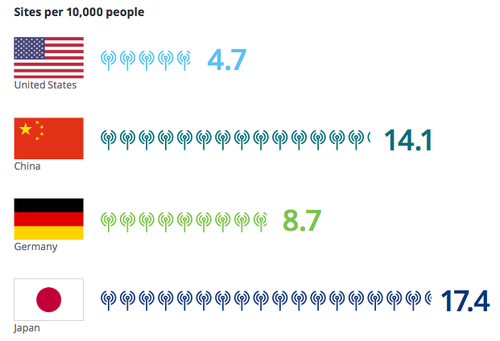 What's more, the US comes off badly when compared with other countries, too. Japan has a staggering 17.4 sites per 10,000 people, and 15.2 for every 10 square miles. Even Germany is ahead, despite the widespread perception of Europe as the world's 5G straggler. It has 8.7 sites per 10,000 people and 5.1 per 10 square miles. Nor is it standing still. Deutsche Telekom AG (NYSE: DT), the country's biggest operator, plans to build another 2,000 sites per year, having added 500 annually between 2014 and 2017. (See The US 5G 'Lead' Over Europe Is Bluster, DT to Splurge €12.5B in 2018 Capex as It Preps for 5G and Europe's Telecom Sector Is Not Perfect, but It's Less Rotten Than America's.)
A US merger between T-Mobile and Sprint Corp. (NYSE: S) is not auspicious, contrary to what the companies claim. It is unclear how any weakening of infrastructure-based competition, in what is already a market dominated by giants, would spur investment activity. State capitalism is the answer to this problem of market concentration in China, but not an option in Western democracies. (See T-Mobile & Sprint: Marriage made in hell.)
The real uncertainty is whether 5G will live up to its promise. Deloitte's authors have made up their minds that any benefits will not accrue to network operators, which could explain the limited appetite for spending. But they are pretty adamant 5G will be a success story for other industries. Plenty of observers still have their doubts the technology will be as economically vital as proponents insist. To US policymakers, that is unlikely to be an acceptable excuse for inaction. (See 5G Still More Like Rocket Fuel Than a Mission to Mars.)
— Iain Morris, International Editor, Light Reading