5G in Laptops, Watches, Tablets & More? Analysts Are Divided
Will 5G succeed where 4G failed? Hanging on the answer to that question are potentially billions of dollars in revenues for wireless network operators.
At issue is whether laptop makers and other consumer electronics companies will install 5G connections directly into their products. 5G will of course be built into phones, but it's still unclear whether 5G will migrate in a meaningful way into other classes of devices such as watches, laptops, tablets and other digital goodies.
Some analysts believe there is a good chance that 5G will expand beyond phones in a way that 4G never did. "The 5G era will provide mobile operators a fresh chance to communicate the advantages and new use cases of high-speed cellular connectivity with consumers, a much needed conversation to bring more devices onto these more efficient networks and to make good on the massive 5G investment," wrote the analysts at Strategy Analytics in a new report predicting that 45 million PCs and tablets globally will incorporate 5G connectivity by 2023.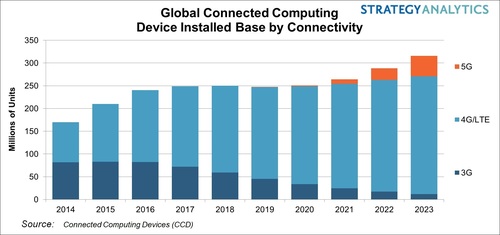 Already there are some indications that 5G could migrate beyond phones. According to a report from the Global mobile Suppliers Association (GSA), most of the world's announced 5G devices are phones and hotspots, but there are also gadgets like drones, laptops and robots.
"There are a few things working in favor of a better adoption trend" in 5G when compared with 4G, wrote Strategy Analytics' Eric Smith in responses to questions from Light Reading. "First, eSIM is much more accepted by the carriers in connected devices than it is for smartphones, and the advantages in SIM management and network flexibility help the business case of an embedded cellular solution. Second, Qualcomm and Arm have aggressive roadmaps for their mobile computing class processors and embedded cellular will go hand in glove with this effort, as opposed to expecting Intel to bring 4G to PCs in the past. Third, 5G gives carriers an opportunity to start a new conversation with customers about the advantages of always being connected, including new pricing plans to take advantage of new network efficiencies. Finally, fixed wireless broadband access to home users has the potential to open up more embedded cellular connectivity to portable devices that currently rely on WiFi."
Added Smith: "5G rollouts have progressed faster than expected around the world, so the opportunity is real."
5G operators of course are keen to see 5G in more gadgets -- every device with a 5G modem represents the potential for new revenues, at least if the owner of that device decides to activate a service.
But not everyone believes 5G will play out differently than 4G. "I think the primary gating factor will be cost, both for the endpoint and the related connectivity service," wrote Gartner's Bill Menezes in response to questions from Light Reading on the topic. "Gartner has forecast that 5G device costs should drop as component suppliers move from their initial discrete 5G baseband processor component to an integrated 5G platform… Will it then be as inexpensive as long-standardized, commoditized WiFi components? Doubtful."
Menezes added that the proliferation of WiFi connections in both private and public spaces "makes the premium of having to buy a 4G or 5G service connection much less appealing, given WiFi performance can support the vast majority of consumers."
To be clear, both Menezes at Gartner and Smith at Strategy Analytics agreed that the question ultimately hinges on how wireless network operators move forward in the 5G market, particularly in terms of price.
"Vendors, carriers, and retailers must establish a clear view into how consumers choose cellular plans," wrote Strategy Analytics' David Mercer in a release from the firm. "Consumers have a difficult time understanding why they should pay their carriers $10 a month just for the privilege of having cellular connectivity outside the house when they would rather grin and bear spotty, insecure WiFi at specific locations. What form new pricing plans take in the 5G world must be informed by a holistic view of the consumer, which devices they use where, and what they use them for."
And here, at least at the outset of 5G, US operators appear largely content to position 5G services in virtually the exact same pricing and usage scenarios as 4G. For example, Verizon is charging an extra $30 per month for 5G service to its new Inseego 5G hotspot, at least for customers who already pay for Verizon's unlimited service on their phone. Moreover, Verizon is capping usage on its 5G network at just 50GB per month -- an amount that users could conceivably chew through in just 50 seconds if they maintain the 1Gbit/s speeds supported on the operator's network. It's also the same cap -- 50GB per month -- that Sprint applies to its 4G LTE network.
On both Verizon's 5G service and Sprint's 4G service, users' speeds are slowed after they pass that 50GB/month mark.
— Mike Dano, Editorial Director, 5G & Mobile Strategies, Light Reading | @mikeddano
Like what we have to say? Click here to sign up to our daily newsletter
One of America's most loved telecoms get-togethers, The BIG 5G Event, will be returning to Austin in 2023 to host 1,500+ telecom, cloud and technology professionals — and we want you to be a part of it!
For three days, you can meet and network with leaders from every part of the North American 5G ecosystem and hear from over 150 speakers on the hottest industry topics. To apply for your complimentary pass to the event, visit this link.
UPCOMING LIVE EVENTS
June 6-8, 2023, Digital Symposium
June 21, 2023, Digital Symposium
December 6-7, 2023, New York City
All Upcoming Live Events
PARTNER PERSPECTIVES
- content from our sponsors