5G Customers Use More Data Than 4G Customers

Comment (0)
As 5G networks light up in cities around the world, a big question for operators is exactly how customers might use them.
Based on new figures from South Korea, it seems that customers will use them a lot.
Research firm Strategy Analytics, citing data from the country's telecommunications ministry, reported that average customer data usage on 5G was 24GB in June, which was 2.6x higher than the 4G average of 9.1GB and 3.2x higher than the overall market average of 7.4GB.
And when comparing customers on unlimited plans specifically, the firm found that 5G users still consumed more data: 27GB per month on 5G versus 23GB on 4G.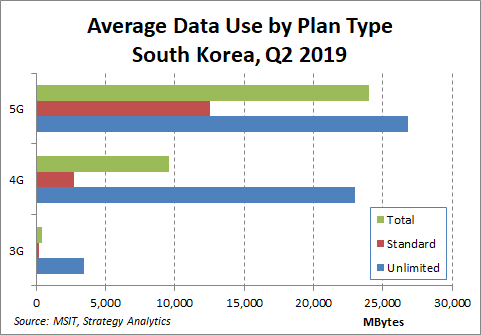 Strategy Analytics also reported that the number of 5G subscriptions at the end of June totalled 1.34 million, or roughly 2% of the total market. However, those 2% of subscriptions on 5G accounted for 6.4% of all of the country's data traffic in June.
The firm also noted that SK Telecom leads the 5G space with 40% market share.
What this means
An oft-repeated maxim in the telecommunications industry is that, if you give people faster speeds they'll find ways to use them. That certainly seems to be the case in 5G in South Korea, where 5G speeds are 1.7x faster than 4G speeds, according to recent numbers from OpenSignal.
However, it's unclear how this trend might play out in the broader industry, and over an extended period of time. For example, South Korean operators first launched 5G just a few months ago, so the customers who used 5G in June are probably early adopters who revel in the latest and greatest technology. Meaning, they might be the kind of customers who use more data anyway.
Further, South Korea is unique in that the country's telecommunications minister tracks usage data. That kind of data is extremely hard to come by in other countries, including in the US, where operators often carefully guard such information. Thus, it will be difficult to track such trends globally.
That said, it's reasonable to assume that 5G users, in the long term, will figure out ways to consume more data than 4G users before them.
— Mike Dano, Editorial Director, 5G & Mobile Strategies, Light Reading | @mikeddano