The 3GPP has firmed up the schedule for delivering a new radio interface -- or rather, interfaces -- for broadband and Internet of Things (IoT) applications in June 2018.

The New Radio (NR) update doesn't change expectations that commercial 5G deployments will happen before 2020: It typically takes a year or more to go from a completed specification to deployment. The update does, however, give device developers and infrastructure builders a firmer timetable to work with.

"We now have a more concrete plan to guide the studies in the Working Groups and to put us in the position to address both short term and long term opportunities of 5G," Dino Flore, chairman of 3rd Generation Partnership Project (3GPP) TSG RAN, stated in an official announcement.

Heavy Reading Senior Analyst Gabriel Brown notes: "It puts more detail on the timeline and, significantly, says non-standalone and standalone NR operation will be developed in parallel. Standalone means you can deploy 5G without an LTE control plane or EPC [Evolved Packet Core]."

Operators and vendors have already been submitting study items for the NR radio project this spring. The New Radio requirements in Release 15 (Phase 1 5G) are supposed to be agreed by September 2016, with Layer 1 and 2 work slated to be completed by 2017. Release 15 is due to be "baked" by June 2018.

See below for the schedule: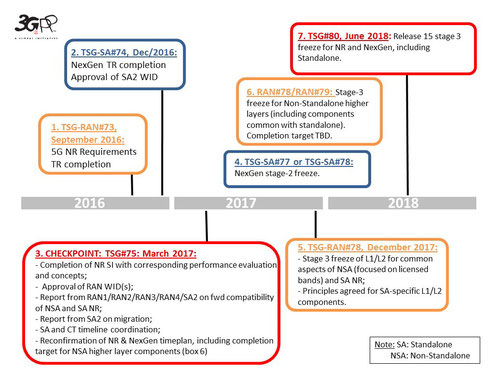 The 5G NR work is aiming to be compatible with future updates and work in radio bands above and below 6GHz. This is because there will be multiple bands to deal with in 5G: The US is looking at 28GHz, 37GHz, 39GHz and an unlicensed channel at 64-71GHz band. China, meanwhile, is focused on 3.5GHz. (See FCC Comm. Names 4 Initial 5G Bands for US, Eyes More and China's MIIT Outlines 4-Point Plan to Drive Innovation.)
---
For all the latest news on 5G, visit the dedicated 5G site here on Light Reading.
---
The 3GPP has previously said that it was looking at delivering enhanced Mobile Broadband (eMBB) in the Phase 1 5G specification in 2018. Phase 2 is more sharply focused on enabling massive IoT applications, according to several US operators, and is due at the end of 2019. (See Is This the 5G You're Looking For?.)
As you would expect there are a bunch of the usual suspects involved in the study of the 5G NR process, each with their own wants and needs, and -- in many cases -- separate proposals for an eventual specification. These include AT&T Inc. (NYSE: T), Ericsson AB (Nasdaq: ERIC), Intel Corp. (Nasdaq: INTC), NTT DoCoMo Inc. (NYSE: DCM), Qualcomm Inc. (Nasdaq: QCOM) and Samsung Electronics Co. Ltd. (Korea: SEC).
Qualcomm, for instance, said this week it is putting forward a sub-6GHz interface, which it will use as a 5G testbed, as a study item for the 5G NR project. (See Qualcomm Readies Lower-Band 5G Testbed.)
— Dan Jones, Mobile Editor, Light Reading